North Vancouver's Rob Sacre, one of five B.C. products to make the NBA, recounts his now decade-ago NBA Draft-day journey to being the last player picked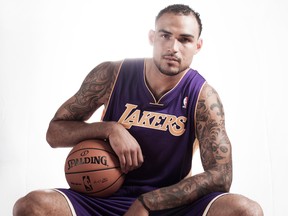 Article content
Rob Sacre was sweating. He'd just had his hair cut, was looking fresh and clean, and ready for the years of work to pay off by hearing his name called at the NBA Draft.
Article content
He had done 15 pre-draft workouts, the last with his hometown New Orleans Hornets — "I have to say, I had a phenomenal workout. Phenomenal" — but watched name after name get ticked off the list.
"Watching the draft, and I knew I wasn't going to be a first rounder, so I took the first round and kind of watched it," said the North Vancouver product. "Second round came; OK, these are the teams I knew were going to be interested in me.'"
Nothing.
Off the board: Draymond Green. Quincy Acy. Miles Plumlee. Kris Joseph.
"OK, 46th pick comes. New Orleans. Here we go. Here we go!" he said. "Then they pick Darius Miller from Kentucky. I'm like, 'He wasn't even in the workout!' But he had dropped in the draft, so they they must have been on their board. So I was like, 'Well, so much for that.' "
Article content
Off the board: İzzet Türkyılmaz. Ognjen Kuzmić. Furkan Aldemir. Tornike Shengelia.
"Then the last 10 come, and they're just shooting off names with more consonants than vowels. And so I was like, 'You know what? I've watched this thing for four hours. Why not watch the last pick. I might as well.' "
"God bless, it was the best for last, you know?"
Sacre was the final pick in the 2012 draft, going to the Los Angeles Lakers, where he played with Kobe Bryant and Paul Gasol for four years. On Thursday, close to 200 players will hope to hear their name called when the 2022 NBA Draft goes at Barclay's Centre in Brooklyn.
Sacre was the "Mr. Irrelevant" of the 2012 class, going 60th — dead last — overall after his standout career at Gonzaga. He's retired from playing now, but has been part of the Fraser Valley Bandits front office since last year. But June 28, 2012 will be etched forever in his memory.
Article content
"It was the most stressful day in my life, boy. I'd rather deliver more babies than to have to deal with that again. It was that stressful," he said with a laugh. "That was one of the most stressful … I can't even put words to describe. It's just something you can't even fathom.
"I was very fortunate and (the Lakers) called my name. And I didn't even work out for them — that was the craziest part. I had 15 workouts for all these teams, and I didn't even work out for the Lakers.
"I hear my name and I just broke down in tears, I ain't gonna lie."
Sacre, born in Baton Rouge, La., and raised in North Vancouver, is one of just five players from B.C. to make the NBA. Steve Nash and Kelly Olynyk are the other easy answers to that trivia question; current Memphis Grizzlie Brandon Clarke and former Seattle SuperSonic Lars Hansen are the tough ones.
Article content
Looking back at the draft, it wasn't just the uncertainty of being picked that kept Sacre sleepless the night before. It was the uncertainty of everything that was to follow.
"It was just so stressful. Like where's my future? There's a huge question mark about it," said Sacre. "You don't know what that future may look like. You just know in the next few days, your future is going to be changed — you just don't know what it's going to be.
"It's hard to describe that to people, because most people have a plan. Yes, I have a plan to be in the NBA, but where am I going to live? What city? Am I going to have to fight in training camp? So that was kind of the hardest part; just this big question mark of the unknown."
The stigma of being Mr. Irrelevant slid right off of Sacre's charismatic back, and it helped that the 60th pick the year before — Isaiah Thomas — had blossomed into a burgeoning NBA star with the Sacramento Kings.
Article content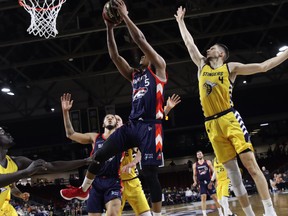 Concerns over his 5-foot-9 height and what was deemed an inconsistent jumper scared teams away from Thomas, a feeling that Bandits guard Kadre Gray knows well.
The 6-foot-1 guard from Toronto had dominated university basketball in Canada for three straight years with the Laurentian Voyageurs, being named the 2017 national rookie of the year, earning back-to-back USports MVPs and taking the scoring title with a 26.3 ppg average. He took his shot and declared for the 2019 NBA Draft.
Ryerson's Tanor Ngom joined him in the draft, but withdrew his name from the draft nine days before it took place; Gray stayed in and went undrafted.
"The NBA, they don't give USport guys a chance and opportunity. … Not yet. Hopefully, that day will come," said Gray, who's averaging 10 points and a team-high 4.4 assists with the Bandits this year.
"That day when I didn't get drafted … I already had a sense leading up to it, like, either I'm gonna get drafted or not, and I knew it wasn't gonna get drafted. It never stopped me like in the sense where my confidence got shot. My whole life, I've been an underdog.
"Every stage I've stepped on, I've played with chip on my shoulder. So to not get drafted, they just added another chip on my shoulder. Everywhere I go, I'm showing out. I'm showing out for me, what I represent, all that. It's like the process in itself, it's very lopsided, it is. It's not fair, but that doesn't mean stop stop chasing your dreams."
Article content
Gray didn't break through to become the first Canadian university player drafted since Saint Mary's Huskies forward William Njoku was in 1994. Lloyd Pandi, the reigning USports MVP, has declared himself eligible for Thursday's draft as he hopes to be the latest to overcome that Canadian stigma.
When he didn't get drafted, Gray spent time with the Toronto Raptors organization as a free agent, but didn't catch on. He joined the Ottawa BlackJacks for 2021, averaging  15.4 points, 5.8 rebounds and 4.3 assists per game, before heading overseas to play for Club Básquet Coruña in Spain.
He joined the Bandits for 2022, and has his team second in the Canadian Elite Basketball standings at 6-2 heading into Friday's home game at the Langley Events Centre (7 p.m., cbc.ca)
Article content
Gray has no regrets about entering the draft; it was just part of his journey. Five players from the CEBL have — Xavier Moon (L.A. Clippers), Javin DeLaurier (Milwaukee Bucks), Cat Barber (Atlanta Hawks), Xavier Sneed (Memphis Grizzlies) and Lindell Wigginton (Bucks) — have gone on to the NBA in the past two seasons.
So if the draft front door to the NBA was closed, try the back door. Or side. Or second-storey window.
Whatever it takes.
"It's attainable. I just spent the year overseas and you wouldn't believe the amount of stories I heard about guys that are from Europe, who we don't talk about, who made it to the league," said Gray. "At this point now, there's no conventional way to make the league. You can make it from anywhere. So don't cheat the work, don't cheat your work ethic, don't cheat your journey.
Article content
"That's the thing. Like Xavier Moon has a different journey than I do. His way to the league has been different than mine. That's what it's about; it's about embracing that.
"Me, as an underdog … I went to a USports school. A small USports school, to say the least.
"I'm battling a lot of barriers, but I'm breaking them down one day at a time, you know?"
---
More news, fewer ads, faster load time: Get unlimited, ad-lite access to the Vancouver Sun, the Province, National Post and 13 other Canadian news sites for just $14/month or $140/year. Subscribe now through the Vancouver Sun or The Province.