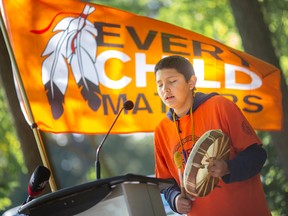 Article content
Clarissa Wheeler walked among the tall trees and prairie grasses of Windsor's Ojibway Prairie Complex on Friday, hoping to get a bit closer to her Mohawk ancestors.
Article content
"I thought I'd come to Ojibway because I kind of feel for me, I wanted to get closer with nature," said an emotional Wheeler, who only recently discovered her Mohawk background.
Article content
"It's a different journey for me because I've never looked a lot into my history. So I just thought maybe being out here would get me in touch with where my families come from."
On the National Day for Truth and Reconciliation, Wheeler and others gathered at a city-sponsored community event Friday morning at Ojibway.
Theresa Sims, an Indigenous knowledge keeper and elder and Windsor's inaugural Indigenous storyteller, performed traditional songs and spoke of her family's painful experiences at residential schools.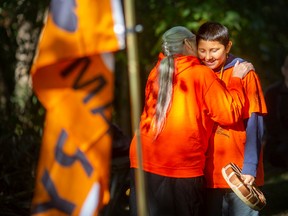 Sims, who is from the upper Mohawk Turtle Clan of the Six Nations Reserve and has lived in Windsor since 1998, said both her parents suffered through the horrible conditions at the federal government's Mohawk Institute residential school in Brantford.
Article content
"The first day of school (my mother) couldn't speak any English so they took a broom, they put it over a well (and) they suspended this little five year old and she hung there until she could say please and thank you in English," Sims recalled.
"That was her first lesson at the residential school. That's how she learned to be a very good student because if she didn't, she could lose her life."
She called her parents survivors.
"Not only survivors, they started to thrive and they made sure I knew my songs," Sims said. "I knew my ceremonies, even when it was hidden."
Sims said growing up, she was forced to hide her Mohawk heritage for fear of punishment.
"I wasn't allowed to speak my language, not from the age of five on, because if the Indian agent heard that, I would be taken to the mush hole," she said. "And if my parents objected, they'd be put in prison and I'd still be taken to that mush hole, which was a prison for our children."
Article content
But she called Ojibway a healing area "because we have these trees. We have the soil. We have nature around us to help heal us from all those sorrows and pains that our parents and sometimes ourselves went through.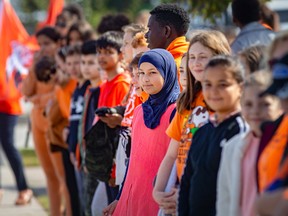 "I know I'm healing because I'm not crying as much as I have been when I tell my story," Sims said. "But this isn't just my story, it's all the First Nations.
"We've all been impacted from the 150 years of residential schools. It's going to take allies and support for the next seven generations to help that healing."
For Wheeler, who is unsure whether her relatives who lived in New York state and Quebec, were in residential schools, said it's time to learn and to take action.
"I think that people are recognizing everything that's happened," she said. "Just the tragedy, it's so tragic.
Article content
"We're starting to say this is real, let's not hide this … anymore. Start recognizing and do something about it."
Across the city and county many other events were held to mark the day.
Students at École Catholique Ste-Thérèse closed out the week of truth and reconciliation with a symbolic action.
National Day for Truth and Reconciliation to be marked Friday

Decolonization, reconciliation art on display at John R. Park Homestead
Students from Grades 4 to 8 stood in front of the school and observed a 15-minute period of silence in a moment of recognition for the lost children, survivors and their descendants of residential schools in Canada.
Brentwood Recovery Home featured story telling by First Nations members Elizabeth Penashue and Bo Sturgeon, while illuminating the property in the colour orange.
The Ontario Chamber of Commerce and Windsor-Essex Regional Chamber of Commerce put out a statement that read in part: While today presents an opportunity to amplify Indigenous voices and commit to continuous learning and unlearning, the work does not end here. As a collective, we must recognize the lasting legacy and impacts of colonialism, the inter-generational effects of residential 'schools' and the ongoing systemic racism facing Indigenous communities across Canada.