The cosmic images revealed today are captivating not just for their physical beauty, their "glittering cliffs," but for their power to move us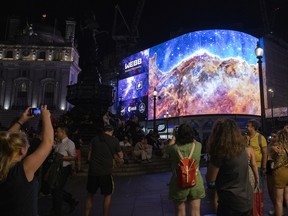 Article content
NASA's release of high-resolution infrared images from the James Webb telescope has captivated everyone from TikTok users to astrophysicists.
It may be the most exciting photo dump in the history of the internet in part because the images on NASA's site are accompanied by text that reads less like science and more like the script of a galactic, sexy telenovela.
We are introduced to "craggy mountains on a moonlit evening," the drama of "the final performance of a dying star," and the "signature of water," which sounds more like a poem than a scientific phenomena.
Article content
There are births and deaths, jets and outflows, hot dust, steamy atmospheres and glittering cliffs. Who wouldn't fall in love or at least be star-struck enough to tune in to see how the story turns out?
For stargazers like Michael Unger, Programs Coordinator at the H.R. MacMillan Space Centre, it's no surprise that the images have exploded in the meta verse with something of a big bang.
The images, after all, tell a new chapter in the story of the universe.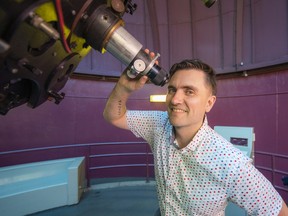 The telescope, a global project, involving Canada, the European Space Agency and NASA, can see farther and deeper into the cosmos than ever before.
It features an instrument built by Canada called NIRISS, or the Near Infrared Imager and Slitless Spectograth, which is capable of doing spectroscopy of planets found orbiting stars outside our solar system.
Article content
The cosmic images revealed today are captivating not just for their physical beauty, their "glittering cliffs," but for their power to move us beyond the low ceiling of our own existence.
They connect us to something greater.
"These images are not something we can see if we look out our own windows," said Unger.
"We have to take a step back and realize that we inhabit a tiny portion of the universe, a microcosm of time. But humans also have a very big influence on the survival of our species on this planet," said Unger.
The images are about exoplanets, and about looking back in time to distant galaxies and alien life, said Unger.
The idea that there could be forms of alien life has always been at the heart of scientific curiosity about other planets. "It's something even the most serious scientists get excited about," said Unger.
Article content
"We've always been thinking about others that could be out there, and we're getting closer to finding answers now that we are finding these new worlds."
"This is also about time travel," said Unger. "When were looking at a star, we are looking back in time."
Unger isn't surprised by how enchanted the world is with the images, or the poetic, drama-filled narrative that accompanied their release on NASA's site.
Space has always balanced scientific inquiry with philosophical questions: Who are we? Where did we come from? Are we alone in this vast universe?
"Humans are in the story because we are in the galaxy," said Unger. This connection between us, and the limitless, deep unknown is part of what gives space what Unger calls "its perception of sexiness."
Article content
It's also why, when we go out and look up at the skies, said Unger, we feel transported. "There is an emotion attached to it when we understand we are part of a universe that is so much bigger than ourselves."
The images will be included in shows at the H.R. MacMillan Space Centre.
---
More news, fewer ads: Our in-depth journalism is possible thanks to the support of our subscribers. For just $3.50 per week, you can get unlimited, ad-lite access to The Vancouver Sun, The Province, National Post and 13 other Canadian news sites. Support us by subscribing today: The Vancouver Sun | The Province.