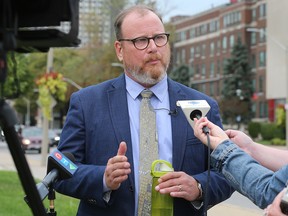 Article content
Feeling an election may be the brink of change does not come often. This year's mayoral race I feel is shaping up to be exactly that.
Article content
Current Ward 4 Coun. Chris Holt threw his hat in the mayor's race in July, arguably the first progressive mayoral challenger we have had for some time.
Article content
And he has hit the ground running. Shortly after announcing his bid for the mayor's seat, Holt released a campaign strategy to improve the city's investment policies. By investing municipal funds in accounts with higher yields, the city would make about $6 million.
These additional funds could buffer our operating budget, resulting in a lower increase in municipal taxes. I have written about the need for improving bus routes or adding additional support workers and even affordable housing. This sort of funding would go a long way to support any one of these initiatives.
Article content
This sort of policy suggestion not only shows Holt's fiscal acumen as a councillor and small business owner himself, but the ability to think outside of the box when it comes to challenges in our municipality.
It is not just about saying a certain investment is not possible based on a surface level reading of the financial books or a lack of willingness to spend money – it is showing that with some financial savvy and creativity, it can be done.
That creativity also is shown through the proposal for a Black Cultural & Historic District in the McDougall Street Corridor, an area that was once the epicentre of the Black community in Windsor.
There have been many conversations by local leaders acknowledging the importance of Black history in the Windsor-Essex region, but it is not often followed by tangible follow-up. We know Black History is an integral part of Windsor-Essex's history, so how does the city meaningfully acknowledge that?
Article content
Holt's vision to revitalize the Barn is a beautiful way to not only restore a community anchor with the historical community in mind, but also provides key city space in the area to run a variety of events.
Holt has also said he will implement all the recommendations from the Vision Zero Task Force. In recent weeks, there have been a slew of pedestrian and traffic injuries, once again painfully highlighting the need to ensure our streets are safe for each and every person who uses them.
World-class cities prioritize pedestrian and bike safety on roads, and there is no reason Windsor cannot do the same.
World-class cities also prioritize public transit, urban density and walkability. The Holt campaign has indicated the city of Windsor is one of the lowest spenders per capita on transit in the province.
Article content
For being the city that built Canada's first electric streetcar, one would not know this piece of history simply by driving by. Instead of building shrines to transit of years past, investing in our own transit master plan and transforming public transit is a much more viable suggestion by the Holt campaign.
This sort of investment also indicates we as a city are serious about green investments and reducing our carbon footprint all while ensuring residents can easily get from point A to B on an efficient public transit system.
The city's own Windsor Works Report stated the city is far too dependent on vehicles. And we know the impacts climate change is already having on our region through flooding and extreme weather events.
Article content
Despite all of this, it should not require having a vehicle in an aspiring world-class city as the only way to get across town in 15 minutes. Good public transit can and should do that, too.
With a month to go until election day, the policy announcements are still coming. It is clear in my view Holt is being meaningful and deliberate in his plans for this city.
At his July launch, Holt said: "I'm running to the be the next mayor of Windsor to actually build the city we all want and deserve — and to build it together."
Is this not the dream? With the support of Windsor's residents, it could very well become reality on Oct. 24th.
Sarah Mushtaq is a millennial who writes about race, gender and life in today's changing world.