Conservative leaders so mercilessly mocked just a few years ago are back and are surely more hardcore right-wing than they were before.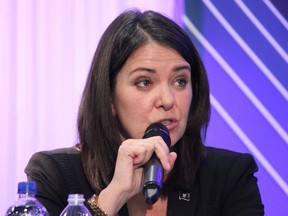 Article content
Political watchers will recall the November 2018 Maclean's magazine cover entitled "The Resistance" that pictured five prominent conservative political leaders who were vehemently opposed to Prime Minister Justin Trudeau's carbon pricing.
Article content
Wearing blue suits and Photoshopped together, the magazine featured former Conservative Party of Canada leader Andrew Scheer, Ontario Premier Doug Ford, former Alberta premier Jason Kenney, former Manitoba premier Brian Pallister and then relatively new Saskatchewan Premier Scott Moe sternly staring into the camera.
Article content
"Former" became the operative word.
The magazine cover was roundly mocked with cartoon parodies, with opponents on social media replacing the right-wing politicians with characters from The Simpsons and King of the Hill. Some took special delight in reposting the cover on social media with an X through those leaders who met their political demise.
But as it stands right now, conservative leaders so mercilessly mocked just a few years ago are back and are surely more hardcore right-wing than they were before.
Article content
The new "Resistance" was solidified Thursday night with Danielle Smith winning Alberta's United Conservative Party (UCP) race to replace Kenney.
Smith's story alone represents one of one of biggest political comebacks in quite some time.
Many swept Smith's career in the political ash bin after she abandoned Alberta's Wildrose Party to join then-Alberta Progressive Conservative premier Jim Prentice's government. However, she used right-wing talk radio to reinvent herself, winning back those former Wildrose supporters who thought she had abandoned them.
Hardened by abundant anti-Trudeau sentiments mixed with their own opposition to COVID-19 vaccinations and public health measures, they become Smith's base of support.
Article content
And Alberta's premier-designate is now rewarding them with policies that extend well beyond former Conservative prime minister Stephen Harper's one-time calls for a firewall around Alberta or talk of taking over pensions and provincial policing that Moe has also advocated.
Smith's is a frontal assault on not only Trudeau policy, but also on the structure of the nation, promising Alberta Sovereignty Act legislation that could see the province  ignore federal laws or environmental policies. Kenney said it would make Alberta a "laughing stock" and would be unconstitutional.
Yet Smith won anyway and further served notice Thursday to Alberta Health Services to follow her direction to recruit nurses and doctors or risk being replaced.
Article content
So Alberta now has a premier who said during her leadership bid that cancer is "completely within your control" until Stage 4, dictating to health professionals that they simply must follow her orders or else.
It was almost too on the nose for the new order of "The Resistance" now led by CPC Leader Pierre Poilivere. Poilivere has recently been accused of embedding misogynist hashtags in his political YouTube videos that observers note have been rather sympathetic to "young men living in their parents' basement."
Are these the foot soldiers in the new "Resistance"?
What is clear is resistance to Trudeau is alive and well. The question is: Where does it go from here?
Perhaps one way to to find out is to watch Moe. Will he blindly follow Smith? Or will he heed the warnings of Kenney and others who've been steering clear of Smith? (Interestingly, former premier Brad Wall supported his former communication aide Rebecca Schultz in her UCP leadership bid.)
Article content
The first clue may be the Saskatchewan speech from the throne later this month. If Moe mimics Smith's policies, expect this province to join in a wild political ride.
While Moe isn't exactly known for nuanced politics, he likely recognizes the dangers of Smith's hardline approach. Others already have.
While Smith led from start to finish in the UCP race, that it took her six ballots to get from 40 per cent support to 50 per cent support suggests she makes many Alberta conservatives nervous.
Moreover, Moe must understand that those who oppose Trudeau make for a big tent, and that it's unnecessary to all crowd into the far-right corner.
That's one sure way of collapsing the whole thing.
Mandryk is the political columnist for the Regina Leader-Post and the Saskatoon StarPhoenix.
Want to know how we decide what to cover and how editorial decisions are made at the Saskatoon StarPhoenix and Regina Leader-Post? Get the weekly Letter From the Editor newsletter from the Editor in Chief Russell Wangersky and join the discussion on what goes into covering news and delivering commentary, both in print and online. Click here to subscribe.