So why announce where you may be building before you decide if you should build at all? A few reasons — some, more nefarious than others.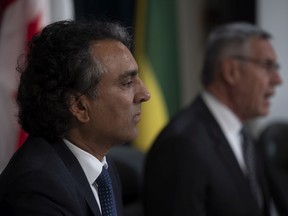 Article content
What's striking about SaskPower's announcement on potential locations for small modular reactors (SMRs) is we are having the debate over where they should go before we have the debate over whether we should build them.
Article content
The government acknowledges we won't decide to build any SMRs until 2029, meaning Saskatchewan won't be generating any nuclear power until 2035.
Article content
In the meantime, SaskPower will have to step up its alternative energy game to bridge the gap, (although expect our interim baseline power needs to be met by more natural gas).
Yet we are going ahead anyway with choosing between Elbow and Estevan by next year with the specific site (there are three possibilities in the southeast bid at the Boundary, Rafferty and Grant Devine dams) to be decided in 2024.
To be fair, SaskPower Minister Don Morgan and his Saskatchewan Party government have already made a compelling case for SMRs being a big part of Saskatchewan's long-term power generation plan once coal-fired electrical generation (still accounting for 25 per cent of our electrical generation) is phased out by 2030.
Article content
The SMR "pros" are that small nuclear reactors don't add to greenhouse gas emissions, while still providing the crucial base load the government argues we can't get from the wind and sun.
Moreover, SMRs that typically produce 300 megawatts (enough to power 300,000 households) are a lot cheaper, safer and more flexible than old-style nuclear power that aren't in vogue anywhere in the world anymore and don't best fit the needs of Saskatchewan's sparse population.
The SMR "cons," however, are that we are still talking about nuclear power that will still cost a pretty penny — $5 billion per reactor (SaskPower might put up two on the specific site it chooses) and, potentially, a total of $20 billion for SMRs by 2042.
You could spin a lot of wind turbines and heat up quite a few solar panels for $20 billion.
Article content
And even if you accept the government's argument that the greener energy will never provide enough base-load power, there is still geothermal or buying hydroelectric power from Manitoba (although how we could purchase that might be an issue).
So why announce where you might build before you decide if you should build at all? A few reasons — some more nefarious than others.
With coal phased out in slightly more than seven years, we do have to start making decisions sooner. Even if the government and SaskPower were to go to greener sources, they would have to start spitting out a lot of wind turbines pretty quickly.
Considering the government's infatuation with fossil fuels and deep-drilled connections to oilfield money, one can't help but suspect the Sask. Party knows full well long-term SMR building keeps natural gas electrical generation in the mix longer.
Article content
(Moreover, not completely committing to SMRs until 2029 means buying more time in the hopes of a non-Liberal federal government less eager to get out of the coal business.)
But even if SaskPower and the government are wholeheartedly determined to build SMRs, they still need to make a compelling case. To do so requires generating public interest in what you are proposing, which is where a healthy competition between Estevan and Elbow comes in.
There's obviously a strong argument for building the SMR near the "Energy City" in the southeast: The area has history as the province's energy provider and faces massive job losses when coal-fired generation is phased out.
However, SaskPower president Rupen Pandya's criteria assessment for the SMR location — near water, centralized in the province to best serve transmission needs and proximity to the province's major centres and an available work force — would seem to work in Elbow's favour.
Article content
It would also capitalize on under-used Lake Diefenbaker, beyond its still-pending $4-billion irrigation pipe dream.
A back-and-forth debate over what location is best invests people in why we should build SMRs and distracts them from considering other energy alternatives. Who knows? It may even distract people from their high electrical bills.
So there appears to be a method in the madness of putting the nuclear-option horse before the nuclear-option cart.
Mandryk is the political columnist for the Regina Leader-Post and the Saskatoon StarPhoenix.
Murray Mandryk: Offering radicals comfort backfired for some politicians

Murray Mandryk: Meewasin byelection seems a bigger deal than normal
Want to know how we decide what to cover and how editorial decisions are made at the Saskatoon StarPhoenix and Regina Leader-Post? Get the weekly Letter From the Editor newsletter from the Editor in Chief Russell Wangersky and join the discussion on what goes into covering news and delivering commentary, both in print and online. Click here to subscribe.