Singh's decision to support Liberal Prime Minister Justin Trudeau's minority federal government has been manna from heaven for Moe.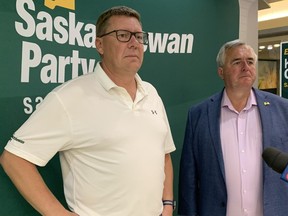 Article content
Having vanquished the Saskatchewan Party in the Saskatoon Meewasin byelection Monday, provincial New Democrats appear to be rededicating themselves to their traditional role of fighting amongst themselves.
Article content
This should come as great relief to Premier Scott Moe and his Sask. Party supporters who might otherwise be a little unnerved after the byelection that saw their candidate, Kim Groff, easily beaten by the NDP's Nathaniel Teed.
Article content
Of course, it's not as if the Sask. Party should have automatically expected to win in an area of Saskatchewan's largest city that's been held by the NDP in all but 16 of the past 51 years. Perhaps this wasn't the win of historic proportions the NDP spin is suggesting it is.
The NDP was quick to note Monday night that Teed's 56.7 per cent of the vote was the largest in the riding in 40 years. For perspective, the Sask. Party won 37 of its seats in the 2020 election with a higher popular vote than that.
Moreover, Teed's popular vote Monday wasn't that much more than the 54.2 per cent and 51.2 per cent former leader Ryan Meili received in the two times he ran in Meewasin. Meili, however, received far more total votes. (Mail-in votes have yet to be counted, but the story of the night might be the ridiculously low voter turnout.)
Article content
Still, coming after the Sask. Party's shocking upset in Athabasca in a February byelection, the inability to get out its own vote in Saskatoon was a bigger shock.
Remember: Moe called this byelection shortly after announcing every adult in the province would get a $500 cheque. Most took the money and stayed home.
Perhaps more shocking to the Sask. Party system was the paltry 112 votes received by Buffalo Party candidate Mark Friesen, who largely used his campaign as a platform to rage against vaccines and spew other conspiracy theories.
It remains a small sample, but the Buffalo Party vote has been well below the margin of victory in the 19 seats it has so far contested, suggesting Moe's pandering to its voters and his consistent nods to right-wing interests may be doing him more harm than good.
Article content
New Democrats should also be pleased their byelection campaign was unhampered by either the Liberal (their leader Jeff Walters was just half a dozen votes ahead of Friesen) or Green Party vote.
Also, Saskatoon Meewasin showed the NDP can beat the Sask. Party in a ground campaign — something of growing importance with fewer people now voting.
Finally, Teed's win means New Democrats can celebrate electing the province's first openly gay MLA, meaning that the tent for both this party and the province just got a wee bit bigger.
Sask. NDP cancels plan to invite Jagmeet Singh to convention, asks for video

NDP's Nathaniel Teed wins Saskatoon Meewasin byelection, retains riding for party
So why then, are more than a few New Democrats … well… teed off?
Article content
It has to do with the NDP provincial council's recent decision to not invite federal NDP Leader Jagmeet Singh to the annual Saskatchewan NDP convention, as has been tradition for years.
Sources told the Leader-Post's Jeremy Simes the provincial council narrowly voted Sept. 18 to not invite Singh and instead ask him to supply a video message.
Singh's decision to support Liberal Prime Minister Justin Trudeau's minority federal government has been manna from heaven for Moe who has tied the local NDP to the unpopular Trudeau.
The NDP council debate, sources told Simes, centred around the damage Singh's brand does to western Canadian New Democrats versus the damage done by snubbing him.
Singh may not have even received much attention if he had come to Saskatchewan, so expect bitterness over this decision to linger along with bitterness over Meili's demise as leader and new leader Carla Beck's efforts to move the NDP toward the vote-rich centre.
Article content
The NDP's problem is it can no longer claim all this is the grumbling of few party "outsiders", who attached themselves to Kaitlyn Harvey's leadership campaign. Discontent is well within the party hierarchy as well.
More significantly, fighting about it has laid it out for the Sask. Party to feast on.
On a day when Moe and his supporters have little reason to be happy, this likely brings them some joy.
Mandryk is the political columnist for the Regina Leader-Post and the Saskatoon StarPhoenix.
Want to know how we decide what to cover and how editorial decisions are made at the Saskatoon StarPhoenix and Regina Leader-Post? Get the weekly Letter From the Editor newsletter from the Editor in Chief Russell Wangersky and join the discussion on what goes into covering news and delivering commentary, both in print and online. Click here to subscribe.