Nothing says accountability like cabinet ministers refusing do interviews on matters like accountability involving their cabinet decisions.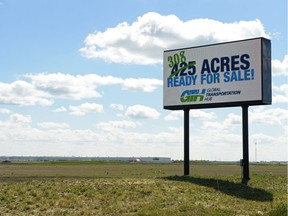 Article content
If the road to hell is paved with good intentions, the mortar is surely the excuses of politicians spending tax dollars in a hurried and unaccountable manner.
Article content
The thought again crosses one's mind in light of provincial auditor Tara Clemett's recent findings suggesting the Saskatchewan Party government cabinet approved funding for 25 municipal projects without the proper assessments that ranked their viability.
Article content
"They weren't being transparent around what made these so special and different that you would have approved these so fast and in a different manner than the others," Clemett told the Leader-Post's Jeremy Simes.
Clemett acknowledged there was "detailed ranking" by the government as it whittled down its list from the initial 1,400 requests in the spring of 2019 to about 250 possible projects requesting $692.7 million.
However, from there, cabinet took it upon itself to choose 25 projects for which they granted $185.5 million (including $106.4 million from the federal government's Investing in Canada Infrastructure Program, or ICIP) that the auditor described as having a rushed or improper assessment process.
Article content
Sure, some of the 25 projects are clearly of value like the master plan for Saskatoon's Gordie Howe Sports Complex, Prince Albert's recreation centre, Moose Jaw's airport and some waterline and landfill expansions in other communities. Clemett described these projects as worthwhile and added that the 25 did eventually receive significant scrutiny that was required in ICIP.
But at least one waste management project in the southwest approved by cabinet had to be withdrawn because it didn't meet federal eligibility requirements. Clemett also raised serious questions whether those other projects that didn't make the top 25 list were treated fairly.
"If you're going to do something different and in a manner that hasn't been outlined, you should probably be transparent about the process," Clemett told Simes.
Article content
When the Sask. Party government was contacted by the Leader-Post asking for an explanation, all the newspaper got back was an email form the Ministry of Government Relations saying the projects needed to be  "advanced" because of a pending federal election.
Yep, folks, nothing says accountability like cabinet ministers refusing do interviews on matters on accountability involving their cabinet decisions.
There again, if you are a government with a sterling reputation for minding the public purse as it did on the Regina bypass that cost for four times the original estimate or the Global Transportation Hub in which business associates or friends of Sask. Party cabinet ministers made millions on land flips after hurried cabinet approval, why wouldn't taxpayers simply trust you?
Article content
In fairness, it's highly doubtful this infrastructure approval process benefitted anyone. Maybe this was an exception that did benefit from approval expediency and perhaps we can even take the government's word it will follow the "normal process" going forward.
This isn't even the most egregious spending misstep we've seen in a province. We've had more than a few.
The 1980s Progressive Conservative government provided far better examples, including cabinet providing Saskatchewan Economic Development Corp. loans to fellow cabinet ministers or manufacturers for shopping carts that didn't fit grocery store checkouts or the GigaText French translation service that didn't translate.
But lest the NDP get too smug about what current economic critic Aleana Young called "a question of transparency, and (a) question of priorities," let us recall those secretly approved economic disasters of NDP days that included Spudco, Navigata and a whole series of dot-coms.
Article content
They, too, cost taxpayers millions without providing jobs, economic benefit or public accountability.
New Democrats and conservatives equally hate such reminders, but past politicians and their secretive shortcuts are exactly why today's present-day politicians need reminding.
Like the GTH or the bypass, invariably, it always starts out with the good intention of providing taxpayers with something of value. But where politicians get lost is when they don't follow the map of proper process and scrutiny.
The road to hell is also crowded with politicians hastily looking for a shortcut.
Mandryk is the political columnist for the Regina Leader-Post and the Saskatoon StarPhoenix.
Mandryk: GTH and GTEC mess frighteningly similar to NDP's Spudco

Mandryk: GTH could set million-dollar precedents
Want to know how we decide what to cover and how editorial decisions are made at the Saskatoon StarPhoenix and Regina Leader-Post? Get the weekly Letter From the Editor newsletter from the Editor in Chief Russell Wangersky and join the discussion on what goes into covering news and delivering commentary, both in print and online. Click here to subscribe.