Article content
The man who shot Éric Francis De Souza at a restaurant in the Dix30 shopping complex went out of his way to hide his facial features from potential witnesses and ever-present surveillance cameras, but was apparently unwilling to sacrifice one very distinguishing feature to carry out the murder.
Article content
Prosecutor Tian Meng focused on this part of the evidence early on while making her closing arguments Tuesday in the murder trial of Joshua Sarroino, 29, at the Montreal courthouse.
Article content
Witnesses who were inside the Sofia restaurant in Brossard on May 10, 2019, when De Souza, 25, was shot once to the back of his head, described the shooter as having long hair that was either tied back in a ponytail, braided or pulled through the back of a cap the shooter wore.
Footage from surveillance cameras installed inside and outside the restaurant showed the shooter also wore a ski mask, during the month of May, to hide his face. Meng argued to the jury there are moments in the footage where it is evident the shooter had long hair, specifically when the killer turned his head a couple of times.
Article content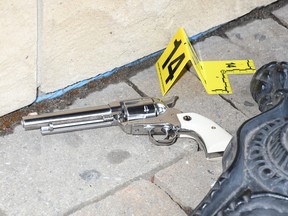 Sarroino became a suspect in the shooting when his DNA was found on the revolver used to shoot the victim. The firearm was discovered on the terrace of a restaurant along the shooter's path as he ran from the scene. His fingerprints and DNA were also found on a President's Choice green plastic grocery bag the shooter used to cover the firearm in his right hand before and after he shot the victim. The bag was found near the revolver.
The accused was placed under surveillance weeks after the shooting and some of his movements were captured on video. In her slide presentation, Meng showed the jury two photos where Sarroino had long hair tied up in a ponytail.
Throughout the trial, Sarroino's hair has been very short.
This article will be updated.
Murder at Dix30: Gunman seemed to know exactly where victim was seated

Victim shot in back of head at Brossard restaurant, jury told as trial begins