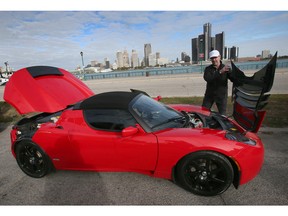 Article content
A Los Angles filmmaker and a Chatham realtor known as "Mr. Tesla Canada" hosted a get-together for electric vehicle owners on Saturday morning on the city's riverfront which will be part of an upcoming documentary film highlighting the growing EV changeover.
Article content
"My passion for cars started early, but I have owned a Tesla for six years," said the film's central figure Patrick Pinsonneault, owner of three Tesla vehicles that includes two rare Tesla Roadsters. "When I drove my first Model S Tesla I was sold. The power, speed, reliability, lack of maintenance was undeniable.
Article content
"Even though I love the classics and hot rods, the electric is just a better buggy and it's so fun to drive."
A chance meeting in San Diego with filmmaker Marvin Hayes, who also has been fascinated by the growing EV movement, led to the two deciding to collaborate on the documentary which they aspire to have appear on Netflix soon after it is completed in early 2023.
"It's called Tipping Point," Pinsonneault said. "Are we at the tipping point of the electric vehicle catching up and and taking over from the ice (gas-powered) engine?
Article content
"The thing is there are still a lot of misconceptions about the electric vehicle, but if people just drove and tested one, they would realize what we already know. They are low maintenance, clean, green and mean. They are just a better buggy."
Shooting part of the film at Windsor's riverfront was in part so Detroit — the Motor City — would be in the backdrop, he said.
"Windsor is also now a catalyst with it's new $5-billion battery plant," Pinsonneault said. "Windsor is a part of this electric revolution. We got the original Motor City behind us, but Windsor and Detroit are both a big part of the electric vehicle."
The pair overall filmed at six different locations which included Henry Ford museum in Dearborn, Niagara Falls — and in Walkerville, also on Saturday.
Article content
Hayes, who resides in the Los Angeles area, said the "EV revolution" is what triggered his interest to create a documentary on the subject.
"Through this EV revolution we are just trying to give insight into these new cars," he said. "It's fascinating. My point of view is everyone doesn't know, so (the film) is just information. It's not to pick a side with gas powered, but it's just new information for people that don't have it."
Saturday was the final piece of filming and he will move into putting the finishing touches on the documentary over the next few months, Hayes said.
"The biggest part of this is how it's happening," he said. "It's something people should not shy away from. This is not about just one model of EV cars. It's overall just an interesting concept.
"Where I come from in California, gas is (US) $7 a gallon, so this has become something I'm really interested in. I have a 2022 Tesla Model 3 myself. I haven't seen a gas station in six months."