Jamal Morrow shares an alma mater with George Reed. Morrow's backfield cohort, Frankie Hickson, was coached in college by Kent Austin.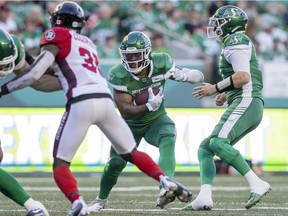 Article content
Jamal Morrow and Frankie Hickson were each familiar with a Saskatchewan Roughriders legend before themselves becoming part of the CFL team.
Article content
Kent Austin, who played a key role in half of the Roughriders' four Grey Cup victories, debuted as the offensive co-ordinator at Liberty University in 2019 — Hickson's final season with the NCAA team.
Morrow attended Washington State University — the alma mater of iconic fullback George Reed.
"I had seen his name on the wall," recalled Morrow, who combines with Hickson to give the Roughriders a terrific tailback tandem. "When I came up here, I saw the legacy that he left.
"Actually, it was super-cool. My first year up here, when I was on the practice roster, I was able to meet him and talk to him a couple of times about Washington State. He has a statue here, so you see what he has meant to this community and this team."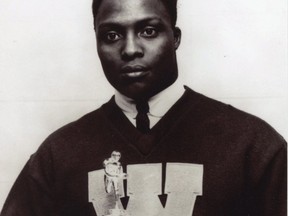 The Roughriders' first championship team — the 1966 edition — actually included three Washington State alums: Reed, flanker Hugh Campbell and defensive lineman Garner Ekstran.
When Saskatchewan next won a title, in 1989, Austin was the starting quarterback. The Roughriders snapped an 18-year Grey Cup drought in 2007, with Austin as the head coach.
The Roughriders won it all again six years later, before a jubilant crowd at Taylor Field. Now, with a Grey Cup game ticketed for Mosaic Stadium on Nov. 20, Morrow and Hickson would like to celebrate a home-field championship of their own.
A 4-1 start has buoyed hopes that the Roughriders will be regarded as the CFL's elite team by season's end. A robust running game has been a primary reason for the early-season success.
Article content
Morrow and Hickson have helped Saskatchewan average a league-high 131.4 rushing yards per game heading into Saturday's Touchdown Atlantic collision with the Toronto Argonauts in Wolfville, N.S. (noon, TSN).
With 335 yards, Morrow is the league's leading rusher — a description that routinely applied to Reed, who rushed for 16,116 yards in green and white. He exceeded 1,000 yards in 11 of his 13 CFL seasons.
Hickson had back-to-back 1,000-yard seasons at Liberty University, which is based in Lynchburg, Va., and eventually attained a long-standing goal of becoming a professional football player.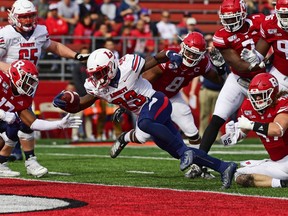 After five games as a Roughrider, Hickson has 216 rushing yards — the fifth-best total in the league — and an eye-popping average of 8.3 yards per carry.
That average was fattened by a 63-yard touchdown run during Friday's 28-13 victory over the visiting Ottawa Redblacks.
Morrow, who was on the sideline when Hickson scored, sprinted considerably further than 63 yards in order to congratulate Hickson in the end zone.
"That was huge," Hickson, 25, said of Morrow's enthusiastic support. "I wish I could have celebrated with him more, but I was really fatigued. I was tired and I was trying to catch my breath.
"He's a great teammate and an even better partner in crime. Everything we do, I say he's Mario and I'm Luigi."
Another Mario — surname: Alford — has been added to the Roughriders' roster to handle the return duties, which had been handled by the firm of Morrow and Hickson.
Article content
The smashing success of the platooning tailbacks prompted the Roughriders' brass to take the special-teams duty off their hands. Their importance on offence is such that rushing and receiving have become the focus.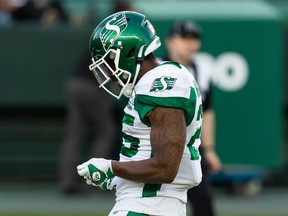 Morrow, especially, is an all-purpose threat. He has caught 17 passes for 182 yards in addition to being the league's runaway leader in carries (62).
"Running between the tackles is always fun," Morrow said, "but being in space is where I always feel the most comfortable."
With 4,219 all-purpose yards, Morrow is third on Washington State's all-time list. Over 50 games (including 30 starts), he rushed for 1,828 yards and nine TDs while averaging 5.7 yards per carry. He added 202 receptions for 1,748 yards and 14 more scores.
The 202 catches are the third-most in school history — and the most for a Cougars running back.
After being bypassed in the 2018 NFL draft, Morrow had NFL stints with the Seattle Seahawks and Tampa Bay Buccaneers. He subsequently tried out with the Orlando Apollos of the short-lived Alliance of American Football, which debuted and disappeared in 2019.
Next stop: Saskatchewan, where Morrow spent the entire 2019 season on the practice roster. More time on the practice roster followed in 2021 before the Roughriders introduced Morrow as their returner — a role in which he excelled.
The departure of veteran tailback William Powell (now of Ottawa) via free agency last winter created a significant void in the Roughriders' offensive backfield. After patiently waiting for a featured role on offence, the 27-year-old Morrow has seized the opportunity.
Article content
"Success doesn't happen overnight," he said. "You've just got to grind, grind, each and every day.
"Football is a sport where when your number is called, you have to take advantage of the opportunity. That's what I was preaching to myself this whole off-season: Take advantage, take advantage, take advantage.
"When you see the numbers you put up, it's definitely refreshing. I don't like to get complacent. I just want to continue to push myself each and every day to be the best person I can be and also the best back in the league."
Morrow has a league-best 14 carries of 10-plus yards — the longest gain being 19. Now that Hickson has a 63-yarder in the books, is the pressure on Morrow have to close a considerable long-distance gap?
"Yeah … I've definitely got to make that up," Morrow mused with a smile. "But he's probably going to get his 70 soon, so it's all right."
The sports world is ever-changing, as are the times. Supplement your steady diet of sports coverage by subscribing to the Regina Leader-Post's 306 Sports Fix newsletter. Each week, sports editor Rob Vanstone will provide additional commentary on the Roughriders, Pats and other teams/sports of interest, along with a peek behind the curtain. Click here to subscribe.