An increase in refugee students, particularly those from Ukraine, creates complex needs beyond academics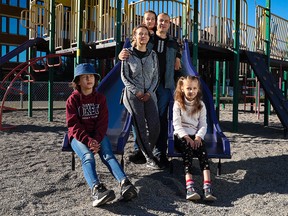 Article content
In the early days of the Russian invasion, when sirens signalled air raids in their home of Zaporizhzhia, Ukraine, the Kovalenkos would huddle in the basement of their apartment building, the three girls filled with fear.
Article content
As the harrowing reality of a prolonged war became clear, the family's plans to run for safety were met with more siren calls, forcing them back to the basement's darkness, time and again.
Article content
"It was a hard time for the girls, they were terrified," said their mother Iuliia.
"It's something that made them stronger, more resilient, definitely. But it's something that I wish they never had to go through," added their father, Yuriy.
After weeks in hiding, the family eventually boarded a train to Poland, and months later flew to Canada, finally settling this summer in a tiny apartment in northwest Calgary.
As their girls — Valeriia, 17, Mariia, 9 and Serafyma, 7 — embrace their first days of school, they are among 653 Ukrainian students who have entered the public school system this year.
Article content
Another 150 have entered the Catholic system — and hundreds more are expected to arrive in the next several months.
Olha Antonenko, who works with the Calgary Catholic Immigration Society welcoming Ukrainian refugees at the airport, says more than 100 are arriving every week. And with tensions escalating again in the region, she expects at least 1,000 more by Christmas.
"I meet families every day at the airport, they have many questions, many needs, to find a home, find a job, and get their kids in school," Antonenko said.
Last month, CCIS officials said Calgary has been Alberta's main destination for Ukrainian evacuees, absorbing well over 4,000 of them so far.
But the growing numbers are bringing unique challenges to the Calgary Board of Education, which is already facing enrolment growth, larger, complex classrooms and fewer teachers than before the pandemic.
Article content
CBE officials estimate that 6,502 teachers are in classrooms this year. But that's only about a dozen more than last year's 6,490, and below pre-pandemic levels of 6,661 teachers in 2019-20.
At the same time, up to 1,500 new students are in classrooms, in addition to the Ukrainian refugees.
Among this year's school staff, 218 are English Language Learning (ELL) specialists, along with 93 ELL assistants. However, only two new ELL specialty teachers have been hired since April.
"Finding educators who can cater to the specific languages required to support the growing number of refugee students in schools has proven challenging," said Kara Layher, CBE spokesperson.
"We encourage any educators interested in these roles to apply."
Article content
Prem Randhawa, an education director with CBE who works closely with refugees and students learning English as a second language, says students who need language supports arrive first at the CBE's Welcome Centre where they take a detailed assessment of their English proficiency and other subject areas.
They are then provided with the language supports directly at their designated school, which could mean they are part of a special classroom of students learning English, they may participate in small breakaway groups throughout the day, or they receive individual help in a regular classroom from a specialized teacher.
But beyond their academics, many of the refugee students have suffered significant trauma that they are still dealing with at school.
Article content
"We are welcoming a high number of non-Canadian students at this time. And we are working to meet all of them where they are in terms of their needs," said Randhawa.
"We also have area-based supports and system supports, in terms of psychologists, mental health supports, and other strategists."
Students face larger, more complex classrooms as school opens

Majority of parents concerned about learning gaps, well-being: survey

New questions being raised around lack of COVID protections in schools
The Kovalenkos say their girls are receiving support for any stress they might feel at home. And their younger girls, they say, will pick up English quickly as most young children do, mostly through play.
But their older daughter, who's in Grade 11 at Queen Elizabeth High School, often struggles to communicate with her teachers and classmates, and seems to be left to figure out English on her own.
Article content
"She is always using her Google Translate, on the internet. They have given her an iPad, a tablet, which is very helpful," said Iuliia.
"We were helping her the other night try and translate a project that she has to do for school."
It's not clear whether she is getting support from an ELL specialist, Yuriy said, but it would be most beneficial if a teacher or assistant who spoke Ukrainian was available to support her, even coming to the school on an ad-hoc basis.
"That way she would be able to talk to someone, to tell them everything she feels, and what she needs help with, all at once. That would be so helpful."
To date, the CBE has seven Russian interpreters and only one Ukrainian interpreter to support Ukrainian families and their students.
Article content
But Layher added more are "currently in the interview and hiring processes. Again, we encourage anyone interested and qualified to apply."
At the start of this school year, Stephani Clements, president of the Alberta Teachers' Association Local 38 representing Calgary public school teachers, said many principals will face difficult decisions as they divide limited school budgets between much-needed staff.
And an increase in refugee students, particularly those from Ukraine, creates complex needs beyond academics, including supports for mental health and trauma.
"The current education funding model does not adequately address the increase to student enrolment," she said, including a large influx from Ukraine.
"It also doesn't address the additional supports required for these students who have experienced trauma."
Antonenko argues the solution is simple, explaining that many refugees arriving from Ukraine are teachers themselves, and should be invited to help in schools, to support students in need.
"They are trained to be teachers, so let them do that. They get work, and the kids get the help they need."