The RI-MUHC study was published days before Canada warned the opioid crisis is worsening on Thursday.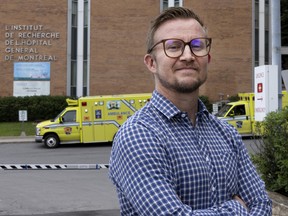 Article content
A new study by a team of McGill University researchers suggests the widespread prescribing of opioids after minor surgeries is doing patients more harm than good.
Article content
Published days before Canada's public health department warned the opioid crisis is worsening in the country, the study concluded that prescribing the drugs post-surgery is often unnecessary and of little benefit.
"Surprisingly, our results indicated that the prescription of opioids did not reduce patient-reported pain," said Dr. Julio Fiore, "but considerably increased the risk of adverse effects."
Conducted by the Research Institute of the McGill University Health Centre, the study combined the results of 47 clinical trials comparing cases in which patients were either prescribed opioids or opioid-free options to manage pain levels after surgeries.
Most of the studies reviewed dealt with patients undergoing minor procedures, such as dental surgeries, or what it describes as moderate-level procedures, including orthopedic or general surgery.
Article content
The analysis found that, for many surgical procedures, prescribing opioids didn't reduce pain intensity reported by patients compared to those who used over-the-counter options.
It also concluded that opting for alternatives could help avoid adverse effects from opioids during recovery — such as nausea, vomiting or drowsiness — and prevent people from becoming chronic opioid users afterward.
There is also the question of whether moving away from the overprescribing of opioids post-surgery could help mitigate the opioid crisis.
The study cites research indicating six per cent of patients prescribed opioids for the first time after surgery can become dependent. Seventy per cent of prescribed opioids also initially go unused, it says, and can later end up being used for the wrong reasons.
Article content
Previous studies have suggested that the backlash over the opioid crisis has made some doctors reluctant to prescribe opioids for pain relief, putting the health of chronic pain patients at risk.
Asked about the crisis, Fiore noted that the study focused on the use of opioids to manage acute pain post-surgery, and not on instances of patients dealing with chronic pain.
"Of course, the opioid crisis has a variety of causes and is not only caused by overprescription by surgeons," Fiore said, noting the importance of ensuring adequate pain management for patients.
"But we do think relying less on opioids for treating surgical pain is definitely a step in the right direction."
In a new report released Thursday, Canada's public health department warned the number of opioid-related deaths reached new heights across the country last year. On average, there are now 21 such deaths each day in Canada, up from eight only five years ago.
Article content
The crisis remains most severe in western provinces, but Quebec has not been shielded from it, either.
According to Institut national de santé publique du Québec (INSPQ), there were 547 suspected opioid and other drug intoxication deaths in the province between April 2021 and March of this year. In March alone, 52 people died.
In an interview, Jean-François Mary, executive director of CACTUS Montreal, a safe-injection site, said the crisis continues to largely be ignored by authorities in Quebec.
Mary said there hasn't been a single month since September 2019 in which Quebec hasn't recorded at least one overdose death per day.
And yet, he added, the provincial government hasn't committed any new funding to fight the epidemic or updated its public health strategy on the issue.
Article content
Mary agreed that opioid prescriptions should be limited to patients who truly need them and should not be used in an "extremely liberal way for all kinds of cases."
But he also cautioned against doctors avoiding prescribing opioids at all costs out of fears of contributing to the crisis.
What he sees at CACTUS, he said, are the negative effects of what he described as the under-prescribing of opioids: for example, people who need them for debilitating pain turning to the black market when they can't get a prescription.
As recently as last week, the centre's workers had to intervene after someone bought counterfeit Dilaudid, an opioid analgesic, in hopes of easing their pain.
The person overdosed, Mary said, and would likely be dead today had they not known to go to the centre.
Article content
"We have constant calls from patients who see their legitimate prescription cut. They don't want to go to the black market but, faced with their pain, they have no choice," Mary said.
"If no one wants to prescribe them what they need, they will find another way to get it anyway," he added. "And that's very problematic."
Faces of the opioid crisis: Pain patient turned unlikely addict

Backlash over opioid crisis hurting chronic pain patients: Quebec study