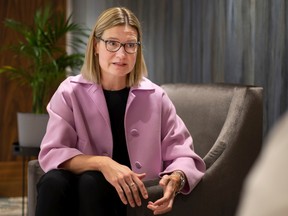 Article content
Ontario is facing surgical backlogs, a shortage of family doctors and a vast need for more palliative care services — but the organization representing Ontario's doctors is recommending a slate of new measures to help ease the strain in the health-care system.
Article content
In a visit to Windsor Wednesday, Ontario Medical Association president Dr. Rose Zacharias said the OMA put together recommendations after extensive consultation with doctors, experts and patients, all with the goal of alleviating strain on the health-care system.
Article content
"We met with physicians, we met with nurses, with patients themselves and asked what are the priorities, where are the gaps?," Zacharias said. "What are the suggestions and recommendations to improve those gaps?"
"As doctors we're always looking out for the best interest of our patients: This isn't just what Ontario's doctors are saying. This is what everyone in the health-care system and our patients are saying."
Zacharias said there are three key measures the Ontario government could implement, including the creation of integrated ambulatory clinics; licensing more foreign-trained physicians; and creating more hospice beds and investing in palliative care services.
Article content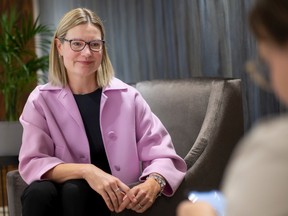 Ambulatory clinics could perform less complicated but still important outpatient surgeries and procedures to ease hospital wait times. The clinics would work with a centralized referral system so that patients are distributed across all available doctors. 
"Right now it would take about three years to catch up on all the knee replacement surgeries people are waiting for," she said, noting knee replacements could be among the procedures done in an ambulatory clinic. "While you wait for a knee replacement surgery (you) deal with pain, you could potentially get addicted to pain medication. Your physical and mental health deteriorates."
Ontario also has many foreign-trained doctors currently waiting for residency spots, Zacharias said, and the OMA recommends that doctors who have completed a Medical Council of Canada assessment be permitted to practice under supervision for several years, before applying for an expanded number of residency spots. 
Article content
"We're recommending those physicians that have already met a certain standard with acquiring medical licence, be allowed to practice under the supervision of another physician practicing in Ontario, in order to expand the capacity for more patients to be seen," she said.
Zacharias said the province can also improve palliative care services and add hospice beds, which would also aid stress on emergency room and improve patient care.
"Palliative patients really need compassionate symptom control for pain, nausea, anxiety," she said. "You want that person to … pass away and as comfortably as possible. An injection of dollars so that we can deliver more palliative care."
According to OMA figures, the province should have between 945 and 1,350 palliative carer beds across the province — but there are only 271.
Article content
Windsor has higher than average wait times for medical procedures after COVID-19 cancellations Author of the article:

OMA president comes to Windsor seeking doctor feedback in long dispute with province

'Real people too.' Windsor doctor hits the big screen to explain her job
They are also calling for investments in mental health and addictions services and an improved public health strategy, also highlighting the importance of every Ontarian having a family doctor.
Zacharias also toured Windsor's hospice and spoke at the Essex County Medical Society's annual education day. 
The Ontario government had previously announced new measures aimed at reducing health care strain that include moving patients from hospital to long-term care, even if not into their preferred long-term care home; looking at options to increase the number of OHIP-covered surgeries and procedures performed at independent facilities; and removing financial barriers for retired or internationally trained nurses to be accredited.