'It's just all about dignity and respect and letting others know that we support them.'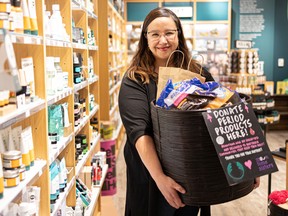 Article content
Menstrual products can cost up to five times more for people living in northern Saskatchewan Indigenous communities than they do in larger cities.
Article content
"It's just all about dignity and respect and letting others know that we support them and we want the best for all of our community members across the province," says Nicole White, leader of the Saskatchewan chapter of Moon Time Sisters.
Article content
Throughout October, the organization is running donation drives in Saskatchewan and Ontario for menstrual products, including pads, tampons, menstrual cups and period underwear. Their goal is to collect 200,000 products between the two provinces.
This will be the group's first donation drive since 2019, though White said she was still able to collect and donate needed products on her own during the COVID-19 pandemic.
She said she's excited to get back to holding donation drives.
Article content
"The amazing part about the drive is that it's this really beautiful community effort. We have these huge packing parties in Regina and Saskatoon … and that's where the magic happens."
White founded the Saskatchewan volunteer group in 2017, after reading about young people in northern Saskatchewan missing school because they lacked access to affordable menstrual products.
She initially planned a one-time collection of care packages to send to northern Saskatchewan. Its success led to continued support.
"It snowballed into the most magnificent thing," she said. "We have since opened chapters in Ontario, British Columbia and Manitoba and we send menstrual products up to almost every northern and remote area in Canada."
Article content
The only Indigenous-led period equity group in Canada, Moon Time Sisters organizes donation drives for more than 65 northern Indigenous communities. White said they work directly with the communities, identifying what they need and filling those requests.
"We work with community, not for community," she said.
Moon Time Sisters recently became the flagship project of True North Aid, a larger charitable organization supporting northern Indigenous communities across Canada. White said this partnership allows the group to connect with like-minded projects. They're also able to offer tax receipts for financial donations.
As a collective, Moon Time Sisters has sent close to two million products to schools, health care centres, midwives, food banks and community programs in more than 65 northern Indigenous communities across the country.
Article content
White said she plans to continue to advocate for menstrual equity, normalizing conversations around menstruation and promoting the need for free products.
"Any time we can create that space to talk about menstruation and reduce the shame around this topic, everybody wins."
There will be 15 public collection points for donated products in communities across the province throughout the month, including Saskatoon, Regina, Moose Jaw, Prince Albert, Debden, Wynyard and Shell Lake. In November, donations will be packaged up and shipped north.
Donation information is available at truenorthaid.ca/mts-sk and the Moon Time Sisters Facebook group.
City, community groups brace for winter amid homelessness crisis

New $2M fundraising campaign launched for Sask. screening bus in fight against breast cancer

Cosmo day program celebrates renovation in Saskatoon
The news seems to be flying at us faster all the time. From COVID-19 updates to politics and crime and everything in between, it can be hard to keep up. With that in mind, the Saskatoon StarPhoenix has created an Afternoon Headlines newsletter that can be delivered daily to your inbox to help make sure you are up to date with the most vital news of the day. Click here to subscribe.