Fines will range from $200 to $1,000 for a first infraction and $300 to $2,000 for subsequent infractions.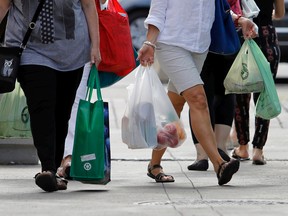 Article content
A bylaw barring the distribution of plastic shopping bags in Montreal's 19 boroughs goes into effect on Tuesday, the city has announced.
Article content
The ban, which was already in effect in grocery stores, will now apply in all retail businesses, including restaurants and establishments that offer takeout and delivery.
Article content
The bylaw was adopted by council last September, following an amendment to Bylaw 16-051 on single-use plastic bags. Borough inspectors will make sure the bylaw is applied; fines will range from $200 to $1,000 for a first infraction and $300 to $2,000 for subsequent infractions.
One exception is the thin plastic bags used to bring foods such as produce, nuts and meat to the checkout counter or to protect them from direct contact with other items.
Only 16 per cent of all plastic bags are reused; the rest end up in the environment, where it can take up to 1,000 years for them to decompose, the city said in a statement. Plastic bags can have a major effect on terrestrial and aquatic ecosystems, the statement said — and plastic also contaminates the quality of paper bales in recycling centres.
Article content
"Prohibiting plastic bags demonstrates our administration's strong commitment to accelerating Montreal's ecological transition and to embody an environmental leadership plan, locally and internationally," said Montreal Mayor Valérie Plante.
The struggle against climate change is everyone's business and the hope is other municipalities will follow suit, Plante said.
Marie-Andrée Mauger, executive committee member responsible for ecological transition and the environment, said modifying the bylaw is part of the plan to make Montreal a zero-waste city by 2030.
"The majority of landfills will be full within 10 years," she said. "Reducing at the source is crucial to reach our goal and we invite all retailers to follow suit and to encourage their customers to shop with reusable bags — an economical and ecological practice."
Article content
As part of the zero-waste goal, eight types of single-use plastic items will be prohibited in Montreal grocery stores and restaurants as of March, even if they are compostable: trays (except for those holding meat and fish); plates; cups or glasses and their covers; stir sticks; straws and utensils.
A communications campaign by the city will encourage Montrealers to reduce waste at the source, reuse or recover.
2020 is the last year for plastic bags in Montreal, Mayor Plante says

Shoppers welcome plastic-bag ban: 'We have to make small changes'

Montreal's plastic bag ban might expand to restaurants, home deliveries