Only a handful of the 94 calls to action in the 2015 Truth and Reconciliation Commission have been applied in the past seven years, Indigenous leaders pointed out Friday.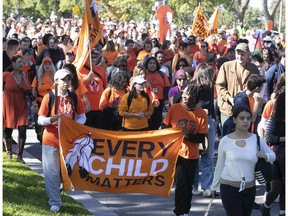 Article content
"When I say land, you say back."
Article content
Before marching through the city, hundreds of people in Every Child Matters shirts gathered at the base of Mount-Royal on Friday to hear Indigenous leaders speak for the second National Day for Truth and Reconciliation.
Article content
"I think (Truth and Reconciliation) can only really, truly happen once people become aware of the truth," Steve McComber, a Mohawk elder from Kahnawá:ke, said ahead of the march. "I think once the truth is known … that will help for people to come together and reconcile, and also more than that is we can't change what happened in the past, but we can certainly work on improving the future."
While delivering an opening prayer, McComber shared that as a little boy, he wondered why his mother and her siblings didn't speak Mohawk like his grandparents.
Article content
"My auntie said to me, 'Because Bubba didn't want his girls to get hit, punished in school,'" he said. "So because of that, I'm also a victim of a multi-generation that survived residential school. My grandfather was in residential school, and eventually, I guess he escaped with some of his teenage friends."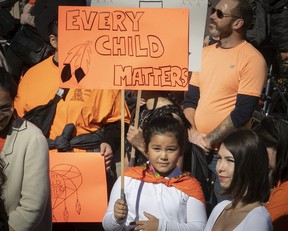 Created last year, the National Day for Truth and Reconciliation serves to honour the victims of the Canadian residential school system and their families. The day isn't recognized in Quebec, a province where several politicians — including the incumbent premier — deny the existence of systemic racism.
"If you think of residential schools, that's exactly what it was, it was part of the system," said Nakuset, the executive director of the Native Women's Shelter of Montreal, who organized the march alongside Resilience Montreal. "It was the law that people had to attend residential schools, and then the next one was the Sixties Scoop, and all the things that we are dealing with right now are remnants of it — and we are still struggling."
Article content
The march came just two days after a vigil was held for Joyce Echaquan, an Atikamekw mother of seven who filmed herself as Joliette hospital staff made racist remarks in the moments leading up to her death in 2020. Elisapie Isaac, an Inuk musician, said on Friday she was disappointed with the turnout at the vigil.
"I would have so appreciated for our politicians, our premier, and maybe his wife … who is a woman, who is a mom, to simply give homage that day," she said. "It would have been extraordinary … but politics wants to divide us, and I think it's unbelievable. So if you can pass the message that we must be careful with the next days and years … to not lose this humanity I still want to believe in in Quebec. I think we're all here to have hope … we might have been given this big pain, but with time, maybe in a few generations, we will be healed. But for the moment, to move towards that healing, we simply need to be heard and to be given the space."
Article content
Only a handful of the 94 calls to action in the 2015 Truth and Reconciliation Commission have been applied in the past seven years, leaders pointed out on Friday.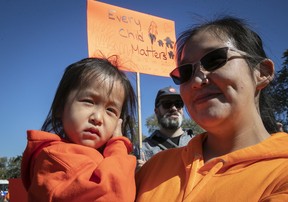 "We are a patient people to a certain extent, and if this kind of gathering pushes the government to do more, then let's do that, let's use it for that as a meaning for people to come together and advocate and support those who are living this experience," Nakuset said.
She added that one of her hopes is for an inquest to be opened into the mass graves, similar to the Nuremberg trials.
"We need to have accountability; we need to have people who were part of that whole system to be pulled out of the old-age homes, and say, 'so was it your idea to dig that first grave and not tell the parents that their child is dead or they ran away? Or was it the church? Or was it the government? Or who decided this was a good idea?'" Nakuset said. "That's what we need, we need to change the history."
Article content
Kahnawá:ke Grand Chief Kahsennenhawe Sky-Deer shared that moving forward, her hope is for more acknowledgement and understanding of Indigenous Peoples and their history, and for the younger generation to have equal opportunity.
"Canada is a rich country and we still have so much poverty in Indigenous communities," Sky-Deer said. "And now all of these cycles of addictions and the things that exist is a testament to how the government and the churches tried to break our people. But you look around, we're still here. We're still proud."
The Travelling Spirit Drummers wrapped up the remarks by the first group of leaders on Friday, after which Montrealers took to the streets to march toward the Montreal offices of incumbent premier François Legault for more speeches, before ending at Place du Canada.
"When I say land, you say back."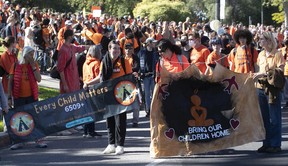 'If every child matters, then show up': Montrealers to march for reconciliation

Opinion: Orange Shirt Day is a reminder of a genocide

Montreal vigil marks second anniversary of Joyce Echaquan's death