The campaign aims to help school-aged children, who lack the support of school nutrition programs during the summer.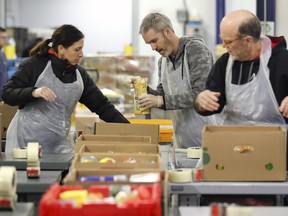 Article content
Noting that the end of the school year also sees many children in Montreal deprived of the support offered by school nutrition programs, local food bank Moisson Montréal has launched a summer fundraising campaign aimed at helping school-aged children.
Article content
The "Hungry for Vacation" campaign aims to raise $60,000 by Aug. 3, an amount organizers say will translate into the distribution of $900,000 worth of food. The funds will be used to support dozens of community organizations and food banks on the island of Montreal.
In a statement issued on Wednesday Moisson Montréal deputy director Catherine Boyer said the lack of nutritional assistance programs during the summer break aggravated a situation where organizations were "submerged" with additional demand from families already struggling with the jump in inflation.
Moisson Montréal is Canada's largest food bank and serves more than 300 organizations.
Donations can be made on the campaign's website.
Demand for emergency food baskets is on the rise — again

Food bank requests during pandemic highest in nearly 40 years, Moisson Montréal says