"They either don't understand education, or they simply don't know what's happening,"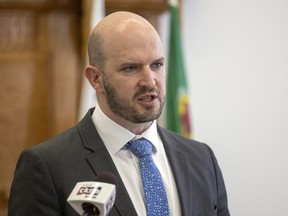 Article content
Opposition education critic Matt Love is calling on Premier Scott Moe and Education Minister Dustin Duncan to retract and apologize for recent statements criticizing school boards for their hesitance to use reserve funds to cover budget shortfalls.
Article content
"They either don't understand education, or they simply don't know what's happening," Love said. "Or they're misleading the public."
Moe, speaking with media last week, said that divisions should be dipping into cash reserves to balance their budgets, before pressing parents with new costs like noon hour supervision fees.
The advice echoes statements from Education Minister Dustin Duncan earlier in June when he asked divisions to lean on reserves for operational needs while the province recovers from the pandemic. Duncan said reserves are there for divisions to use during "emergencies."
But Love said Thursday that Moe and Duncan are spreading "misinformation" about the state of funding for the education sector. He said the Sask Party is downloading responsibility for provincial purse-tightening onto the shoulders of school divisions, "scolding them for being broke" after years of chronic underfunding.
NDP leadership hopeful Carla Beck, MLA for Regina Lakeview, made similar comments recently, calling for more accountability from the province about the "choice" to not fund education.
The opposition's criticism joins commentary from a myriad of school boards, which have been very vocal since the provincial budget was unveiled about the financial strain divisions are facing again this year.
Provincial funding increases have not kept pace with inflation, enrolment or complex student needs, said Love, and division reserves have not grown since 2017, despite claims from Duncan — in reality, reserves have shrunk by an average of 30 per cent since 2017.
Article content
"They cannot stomach the responsibility for the situation they have caused, for cuts to hundreds of teachers and other education support workers in this province," Love said.
He argued the Sask Party is aware that reserves are not the solution to budgetary pressures related to inflationary costs, evidenced by a briefing note on policy issued internally in 2017.
The briefing states that reserves are not meant to be used for operational funding, and that using those funds is at the discretion of the division, not the ministry.
Several members of the Sask Party caucus are former school board members, noted Love, singling out Moose Jaw North MLA Tim McLeod, who was a board trustee for Prairie South School Division until his successful election in 2020.
"It points to the fact that they know (what) reserves are for and where reserves are," Love said.
Regardless of policy limits, Love said school divisions say that while there are reserves, they aren't enough to cover shortfalls.
A final budget summary for Regina Catholic Schools presented Wednesday, for example, shows that unrestricted reserves total $2.4 million. But expense increases, identified as salary bumps and inflationary pressures, amounted to $3.2 million.
Love again called on the Ministry of Education to issue an immediate $50 million top-up to the education budget, sourced from provincial resource revenues.
Duncan referenced the possibility in a radio appearance last week, saying the ministry has looked at diverting money if needed but will monitor the situation first.
"Our school divisions don't need monitoring, they've already spoken," Love said.
The news seems to be flying at us faster all the time. From COVID-19 updates to politics and crime and everything in between, it can be hard to keep up. With that in mind, the Regina Leader-Post has created an Afternoon Headlines newsletter that can be delivered daily to your inbox to help make sure you are up to date with the most vital news of the day. Click here to subscribe.