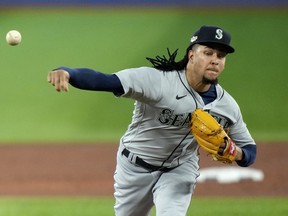 Article content
Imagine a starting rotation of Luis Castillo, Alek Manoah and Kevin Gausman.
Article content
And then add in a little hope for the future with Jose Berrios and Hyun-jin Ryu, and the dependability of Ross Stripling.
Article content
It could have happened had Blue Jays general manager Ross Atkins beat the Seattle Mariners to the punch at baseball's trade deadline this summer.
It could have happened had the Jays been as hungry or aggressive as Seattle was in sending prized kids — one a teenaged shortstop, one a 20-year-old shortstop — to the Cincinnati Reds in exchange for Castillo, who was all but unhittable in Game 1 of the American League wild-card series between the Jays and the Mariners.
Article content
The Jays had the prospects to make the deal and they did make several attempts to acquire Castillo. They just wouldn't part with what the Reds wanted. The Reds wound up with volume from the Mariners for Castillo, but not necessarily ready-for-the-bigs, elite talent.
Article content
And after the trade, Seattle turned around and signed Castillo long-term for the kind of money the Jays have already invested in Gausman, Berrios and Ryu.
There is certainly value in Gausman, as this season and Game 2 of the series certainly displayed. But Berrios had a questionable season and Ryu's future is in doubt, and Atkins dealt instead for Mitch White to fill in their starting rotation.
The Jays had no clarity as to who they would wind up playing in the wild-card round, but they knew it was a possibility it would be the Mariners. They had to flinch, just a little, when they didn't add anything of substance to their rotation and Seattle wound up with a genuine stopper.
THIS AND THAT
Manoah made 31 starts for the Blue Jays this season, giving up four earned runs only four times. The Jays lost all four of those games. Manoah, with a rough first playoff inning, gave up four earned on Friday night against the Mariners. The Jays lost 4-0 Friday night … Manoah has made 52 starts as a Jay. Toronto has won 34 of those games — in other words, 65% of the games Manoah has started as a big leaguer are Blue Jays wins. The hope here is there is no residual effect from the Game 1 difficulty … Who's a playoff hitter and who isn't? Depends on the year and the circumstances. Alex Rodriguez was a playoff bust until he wasn't. Dave Winfield, who knocked in the winning run for the Jays in the 1992 World Series, was once called out by George Steinbrenner for his lack of playoff production. Every game, every bat, the scenario can change. If Manoah and Max Scherzer can get knocked around on the opening night of the post-season, pretty much anyone can … The Hunter Brothers sang the national anthems at Saturday's Blue Jays game and hard as I looked I couldn't see Dale, Mark, or Dave among them … Is there a better manager in baseball than Tito Francona? And please, don't tell me managers don't make a difference … My favourite Rays: Ricky Ray, Robbie Ray, Rob Ray, the late Ray Charles, Ray Finkle, Ray Romano and Randy Arozarena … Sometimes boxscores lie: Gausman couldn't have pitched much better than he did Saturday afternoon and the numbers say 5 2/3 innings pitched, four earned runs given up. When he was taken out in the sixth inning, he had only given up one run. This kind of performance is why the Blue Jays invested so heavily in Gausman, the right decision to sign him instead of Robbie Ray.
Article content
HEAR AND THERE
Here are the easy NHL predictions: Connor McDavid will win his third Hart Trophy. Cale Makar will win his second Norris Trophy. Barring injury, that has to happen. The rest, I don't know … FanDuel has Auston Matthews' over-under goal total at 56.5. I'll take the over … I like MacKenzie Weegar enough that I included him on my Norris Trophy ballot a few years back. Not sure I like him for eight years in Calgary and $50 million, though. Same for Matt Barzal and the Islanders. As Lou Lamoriello would say — and it was his contract — too much money, too many years … I'm a list guy. I devour them. But didn't have a lot of disagreement with TSN's annual list of the Top 50 NHL players. For me, I thought Sasha Barkov of the Florida Panthers was a touch high at No. 9 and I thought Adam Fox and Charlie McAvoy, two of those rare No. 1 defencemen, were too low at 18 and 30 … No one wants to say this because of the politically correct police and all, but those who coached Akim Aliu must cringe every time they see him in a news report or a commercial talking about what's wrong with hockey. Like he would know. By my count, Aliu played for 23 teams in nine different leagues in 12 professional seasons and rarely finished any season with the same team he started with. If that was colour-related, how is it that Wayne Simmonds spent just about the same 12 seasons playing in the NHL? … I like the idea of Rasmus Sandin partnering on defence alongside Mark Giordano with the Leafs. Sandin has calm but needs experience: Giordano is as calm as it gets on defence and has 1,024 games on his resume to play the part of instructor … Wonder what the Hockey Hall of Fame will do now and in the future with Joel Quenneville, who is second all-time in wins and has three Stanley Cups on his head coaching resume. Quenneville is unofficially suspended from the NHL — or on leave, call it what you want — for his part in the Kyle Beach abuse fiasco. His career was Hall of Fame worthy until he didn't have one anymore. Mike Keenan and Ken Hitchcock are interesting Hall of Fame candidates as retired coaches.
Article content
SCENE AND HEARD
Matthews is already being talked about as the best American hockey player ever, with good reason. But it's still early and still too soon to place him ahead of Brian Leetch or Chris Chelios at this time in history. Leetch won a Conn Smythe Trophy, which is really the ultimate individual award. Chelios is a three-time Norris Trophy winner. Matthews might get there, just not yet. My list of top Americans would start with Leetch, then Chelios, then go to Patrick Kane, then maybe Matthews, ahead of Mike Modano and Pat LaFontaine. And I don't count Brett Hull as an American, no matter what his passport says. He learned to play in Winnipeg and Vancouver while growing up. He only played for Team USA because when he was a slow-developing teenager, Team Canada didn't want him … Makar and Victor Hedman are the only active NHL defenceman to have won the Conn Smythe, as MVP in the Stanley Cup playoffs. Eight of the other nine defenceman who have won Conn Smythes are in the Hall of Fame. The only one who isn't is the now-retired Duncan Keith, who will be there in three years … Poor women's hockey. They just don't get it. The Toronto Six women's hockey team has set up a media meet and greet for a coming Monday night. Guess they didn't notice the Maple Leafs were at home that night and most of the hockey media would be at Scotiabank Arena doing their jobs rather than getting to know the women's team … The next time you see an executive from Hockey Canada, he or she might be sitting on the sidewalk outside a restaurant, begging for spare change … The GTHL is the largest hockey league in Canada. Remaining silent on the Hockey Canada scandal is not a good look for the G, who defer all matters to the Ontario Hockey Federation, who they usually ignore … This is funny if fights can in fact be funny. The Golden State Warriors are more concerned that the video of Draymond Green punching Jordan Poole got out than they seem to be about the fact that Green socked his teammate.
Article content
AND ANOTHER THING
The final numbers from Aaron Judge's historical season: He led the American League in just about everything that matters — home runs, runs scored, RBI, walks, on-base percentage, slugging, OPS, WAR and finished five batting points away from winning the Triple Crown … Former Argos coach Scott Milanovich is the quarterback coach of the Indianapolis Colts. Not sure that's a position with comes with any kind of job security … Dave Dryden has passed away at the age of 81. Like his younger brother, Ken, he played goal in the NHL. Like his brother Ken, he viewed the world intelligently with both depth and passion. Never had an unforgettable conversation with Dryden, who played in Buffalo and Chicago and then spent five seasons with the Edmonton Oilers, mostly in the WHA … Don't remember a CFL season like this one, where you can argue that six of the nine teams are just not very good. And by the way, did anybody watch the Argos on Saturday afternoon playing at 4 p.m.? The same time as the Blue Jays game? Anybody? … The only times the Blue Jays won the World Series, Pat Gillick was the general manager. The most recent time the Phillies won the World Series, Gillick was the GM. The previous time Seattle was in the playoffs, Gillick was the GM. The most recent time the Baltimore Orioles were in the playoffs back to back, Gillick was GM. Nobody like him, ever … Can we just get rid of pre-season games in every sport but baseball. There is zero meaning in any of them … Mariners shortstop JP Crawford is the son of former CFL star Larry Crawford, who probably should be in the Canadian Football Hall of Fame. Crawford played most of his career with the B.C. Lions, but finished up as an Argo in 1989, the year SkyDome opened … Really, isn't it time to get rid of OK, Blue Jays? It's old and stale. Like a lot of us. I liked Hill Street Blues 35 years ago, too. I don't watch it anymore … Two reasons to like the Mariners: Pitcher Matt Brash is from Kingston. Infielder Abraham Toro is from Montreal. Both should be part of Canada's team at the World Baseball Classic … Happy birthday to Henrik Zetterberg (42), David Phelps (36), Carling Bassett-Seguso (55), George Kittle (29), Kyries Hebert (42), Mike Singletary (64), Fred Modin (48), Raffi Torres (41), Kevyn Adams (48), Monty Williams (51), Starling Marte (34), The Miz (42) and Joe Pepitone (82) … And hey, whatever became of Russell Martin?
Article content
HOCKEY CANADA'S IGNORANCE REACHES NEW HEIGHTS
Losing Esso and Nike and Telus and Tim Hortons as major sponsors have not yet forced any change with the myopic and somewhat ignorant people who run Hockey Canada.
The Prime Minister calling for change hasn't changed anything. It is rather remarkable and unbelievable and startling that no resignations of significance have come yet — not from the board of directors who should be universally dismissed along with the senior executives of the former institution.
As someone who dedicated a lot of his life to minor hockey — I coached more than 1,000 games in 27 minor hockey seasons and in between that convened leagues, sat on executives of two organizations, scheduled tournaments, organized statistics, ran year-end banquets — I am more than qualified to discuss anything to do with minor hockey in Canada.
Article content
And when I heard Andrea Skinner — who resigned as chairman on Saturday night — ask who would "turn on the lights" in arenas across the country if it wasn't for Hockey Canada, I wanted to jump through my television screen and verbally attack her point of view.
I know who turns on the lights arenas. I've been there early mornings and late at night. The guy who runs the rink does that. He usually works for the arena or the community that owns the arena. He has nothing — zero — to do with Hockey Canada and, in most cases, any hockey organization.
But this is the madness in all this. Hockey Canada continues to trip all over itself as its name has been severely damaged, its current reputation irreparable, and the people in charge wait behind the walls of their castle, not in any way comprehending that revolt in the kingdom has ended their reign.
SIMMONS: Opportunity was there for Guerrero and Bichette, they just couldn't get it done

SIMMONS: It's that close, with little to choose between the Jays and Mariners
Check out our sports section for the latest news and analysis. Care for a wager? Head to our sports betting section for news and odds.