The $15-million facility is consolidating roughly 90 employees under one roof to reduce costs, waste and greenhouse gas emissions.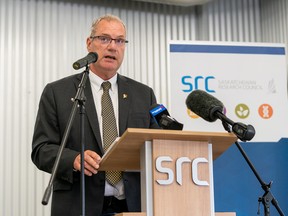 Article content
A multimillion-dollar mining facility is officially opening its doors as higher global demand spikes interest in the minerals buried in Saskatchewan.
Article content
The Saskatchewan Research Council (SRC) is opening the facility on Cleveland Avenue in Saskatoon, a stone's throw from a major rare earths processing facility planned in the same neighbourhood.
The facility is consolidating roughly 90 employees under one roof and has a price tag of about $15 million.
The new building will help "allow mining companies to produce more ore with less waste, reduced energy costs and reduced greenhouse gas emissions," SRC CEO Mike Crabtree said at the grand opening Wednesday.
He says the benefit of bringing those employees together is that they can more rapidly respond to changing markets, like gold or uranium business on relatively short notice. The employees fall under SRC's geoanalytical laboratories, mineral processing and development engineering and manufacturing groups.
"We need that data very quickly in order to be able to make better investment decisions," he said.
The facility can process anywhere from milligrams to 2,000 tonnes of kimberlite, which contains diamonds, and share that information with miners in the province.
University of Saskatchewan geological sciences professor Kevin Ansdell said the SRC is putting its existing mining and mineral processing "under one umbrella, which is very sensible."
He noted the new facility is technically in the same parking lot as the planned first rare earths processing facility in Canada. That accompanies a push from the federal government to identify critical minerals that can be used to increase Canada's role in making the world's batteries.
Article content
About 80 per cent of the world's rare earths are from China, Ansdell said.
"(Considering the) economic viability within Canada and Saskatchewan, we're actually quite well placed," he said.
Minister Responsible for the SRC Jeremy Harrison said the province noticed a general uptick in mining interest in Saskatchewan due to the perception of stability compared to other jurisdictions. He pointed to the typical number of roughly 10 international delegations increasing to the current 19 investigating sectors like mining.
"One of the things we have really noticed as a province, since the horrific Russian invasion of Ukraine, is a very high degree of interest around the world in securing commodity supplies from reliable, long-term stable partners," he said.
Crabtree said the new facility's minings services are opening in the nick of time given that spiking demand. He's only expecting that to grow as miners increasingly dig for materials needed for electrification.
"What we didn't expect to see was the (scale) of demand that we've seen for services," he said. "So this facility coming on line six months ago — I hate to say luck — but it came just at the right time."
Rare earth elements plant in Saskatoon touted as North America's first

Q+A: BHP brass dig the world's future largest potash mine in Sask.
The news seems to be flying at us faster all the time. From COVID-19 updates to politics and crime and everything in between, it can be hard to keep up. With that in mind, the Saskatoon StarPhoenix has created an Afternoon Headlines newsletter that can be delivered daily to your inbox to help make sure you are up to date with the most vital news of the day. Click here to subscribe.