Article content
Windsor police have laid a charge of first-degree murder against a Michigan man in connection with the death of his estranged wife — a woman who was reported missing a week ago.
Article content
Brian Aaron Marbury, 45, was taken into custody on the Canadian side of the Windsor-Detroit tunnel on Monday night, shortly after 9 p.m.
Police said the arrest was made as a result of investigation into the disappearance of Sahra Bulle, 36, of Windsor — who has not been seen since May 26.
Although the search continues for Bulle, Windsor police said investigators with the Major Crimes Unit obtained a warrant for Marbury's arrest based on "significant evidence."
Further details on the case have not been disclosed by the authorities. Police continue to implore the public for tips on Bulle's last movements and whereabouts.
Bulle is described as a petite black woman with a light complexion, about five-foot-four and 115 pounds, with long brown hair and brown eyes. She was last seen on the evening of May 26, around 7:30 p.m.
Article content
At the time, she was wearing a tan-coloured shirt and black pants. She was carrying a bag.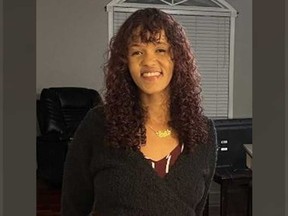 Bulle was originally from Mogadishu, Somalia, and studied at the University of Windsor.
Windsor resident Fartumo Kusow, who has identified herself as mother to Bulle, posted numerous public appeals for help — stating that Bulle's disappearance was greatly out of character for her.
According to one of Kusow's posts, Bulle was at a women's shelter in Windsor earlier on the day that she went missing.
Anyone with information on this matter is urged to call the Major Crimes Unit at 519-255-6700 ext. 4830. Anonymous tips can be made via Crime Stoppers at 519-258-8477 or www.catchcrooks.com.
Windsor police seek missing woman

Windsor police seek 'armed and dangerous' suspected killer

Community shocked by apparent murder-suicide in LaSalle