Michael Gordon Jackson says his former lawyer tried to get him to plead guilty against his wishes.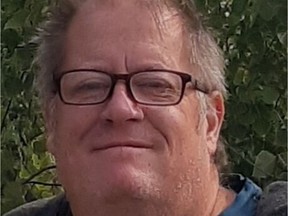 Article content
A former fugitive and anti-vax father hoped in vain that a Regina judge would lend an ear to his beliefs.
Article content
Michael Gordon Jackson made a brief appearance via video link in Regina Provincial Court on Wednesday regarding a criminal charge of abduction in contravention of a custody or parenting order.
In November of 2021, Jackson did not return his daughter to her mother at an arranged time, as per a custody agreement. He's accused of instead fleeing with the then seven-year-old child, resulting in a months-long saga wherein police repeatedly asked for the public's help in locating the pair before they were found in B.C. and Jackson was charged.
During a discussion in court about how the matter should proceed, Jackson shifted gears, choosing to offer some manner of statistic, the source of which was unintelligible over the audio system.
"130 children have been reported killed by this vaccine," he said, before Judge Bruce Henning cut him off.
Saskatchewan government literature indicates COVID-19 vaccination is safe and has kept children from becoming severely ill.
A recent comparison done by the Canadian government showed unvaccinated individuals sick with COVID-19 were much more likely to die of their illness than those who were vaccinated, though this was stated generally without reference to age.
"I'm not going to hear your speech," the judge eventually said, though Jackson continued to try to speak over him.
Finally the judge lost patience.
"Keep quiet and I'll tell you something useful," Henning said.
However, Jackson kept talking, telling the judge, "I should be let go."
Article content
The court has apparently already disagreed with that sentiment.
"There has been a bail hearing and Mr. Jackson was denied bail," Crown prosecutor Aly Sparks told Henning.
That hearing, she said, occurred in April.
"When do I get a bail review?" Jackson asked, and after some discussion Henning indicated it would be mid-July when it would "become an automatic review by the Court of Queen's Bench."
Upon his last appearance, it was learned Jackson had fired his Legal Aid Saskatchewan lawyer. On Wednesday, he told Henning this was because "in the three months that I had retained him, he had done nothing but try to convince me to plead guilty, which was against my wishes from the beginning."
He said he wouldn't be willing to work with the "public aid system," despite the fact that he previously told court he couldn't afford a private lawyer.
And, as he did at his last appearance, he attempted to plead not guilty.
Henning said he would note it as Jackson's intention to enter such a plea, but tried to explain to the accused how the legal process works, including his right to elect a mode of trial, and indicated he might like to speak with a lawyer about that.
In the end, a case management conference was scheduled to further discuss Jackson's matter.
"You know, my daughter is being deprived of her father and it's not —" Jackson could be heard saying, as the judge called the next matter on the bench and proceedings moved on.
He is scheduled to appear in court again this month.
The news seems to be flying at us faster all the time. From COVID-19 updates to politics and crime and everything in between, it can be hard to keep up. With that in mind, the Regina Leader-Post has created an Afternoon Headlines newsletter that can be delivered daily to your inbox to help make sure you are up to date with the most vital news of the day. Click here to subscribe.