Article content
Metro Vancouver says Minnekhada Regional Park in Coquitlam will partially reopen on Friday, after a wildfire that broke out earlier this month has now been extinguished.
Article content
Trails that will reopen or reopen in part include Lodge Trail, Meadow Trail, Log Walk, and Quarry Trail, according to a news release from the region Thursday.
Article content
All other trails remain closed indefinitely while crews remove hazard trees, conduct archeological, environmental and safety assessments, and develop a restoration plan for the areas damaged by the fire, Metro said.
Oliver Road is open to pedestrians and cyclists, but remains closed to vehicle traffic.
The wildfire that broke out Oct. 1 during drought conditions in Metro Vancouver spread quickly to an estimated 14 hectares in size. The cause of the fire is still under investigation but is believed to be human-caused, according to Metro.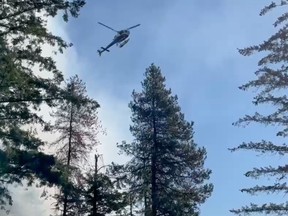 Minnekhada Regional Park is a 200-hectare natural area in northeast Coquitlam alongside the Pitt River and adjacent to farmland.
The B.C. Wildfire Service worked with Metro and Coquitlam Fire and Rescue to attack the blaze.
The Metro Vancouver Regional Parks Foundation, in partnership with the Minnekhada Park Association, has launched an emergency fundraising appeal to support restoration efforts. The foundation will be matching all donations up to $10,000.