In June, home sales (excluding new builds) dropped 29 per cent from a year ago, according to Ottawa Real Estate Board statistics.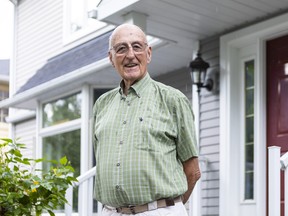 Article content
The median home price in Ottawa declined in the second quarter of 2022 compared to the first three months of the year, a new Royal LePage study has found, though prices are still higher than they were this time in 2021.
Article content
The numbers are the latest indicators of softness in the local (as well as national) housing market, with the brokerage revising its projection of an anticipated hike in the median price for Ottawa by Q4 down to 10 per cent. The federal housing agency, the Canada Mortgage and Housing Corporation, also recently revised downward its forecast for average housing prices in 2022 from an expected 13.7 per cent hike to 11 per cent, with rising interest rates credited as a major factor.
In Ottawa, the Royal LePage survey found the aggregate price of a home in the city rose by 11.5 per cent to $800,300 in Q2 of 2022 compared to last year, though that figure represented a 1.1 per cent drop compared to the first quarter of 2022.
The median price of a single-family detached home leapt 10 per cent to $930,500 on a year-over-year basis (a 1.8 per cent reduction from the first quarter this year), while the median price of a condominium decreased one per cent to $416,900 from the same quarter last year (a 3.6 per cent decrease from Q1).
Article content
"The number of sales (has) slowed down," said John Rogan, regional spokesperson for Royal LePage. He said sometime around April and May, the national real estate company started to see a minor slowdown in sales, compared to the past two years when the market was "fast and furious."
The numbers reflect what was seen in the latest release from the Ottawa Real Estate Board.
In June, home sales (excluding new builds) dropped 29 per cent from a year ago, according to board statistics.
Board members sold 1,508 properties last month, down from 2,122 in June 2021. Home sales declined 31 per cent, while condo sales fell 23 per cent.
The average home sold for $772,861, six per cent more than a year ago, while the average condo price was $438,977, a more modest one per cent climb.
Article content
Rogan, though, maintains that sales activity remains strong.
The COVID-19 pandemic affected the housing market cycle and created rapid growth in home sales and rentals, he explained, with a large number of sales in the past two years brought on by first-time home owners and renters who rushed to buy properties.
But even when excluding 2020 and 2021 due to the unusual sale cycle caused by the pandemic, "(sales) are still extremely high to a 10-year average. We're not in a critical slowdown stage," Rogan said.
Compared to the second quarter of 2022, which took a slight dip, Royal LePage is predicting that the aggregate house price in Ottawa in the fourth quarter will be $813,670.
"We've got a demand out there more than we have inventory for," said Rogan, noting that price growth was still substantial in the first part of 2022.
"We were 13, 14 per cent over the previous year, and so we're just going to slide down to 10 per cent."