Mason Fine appears to have a slight edge on Jake Dolegala and Troy Williams in the race to become the Roughriders' No. 2 quarterback.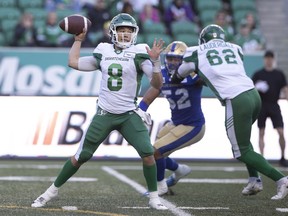 Article content
The finish was better than the beginning of Tuesday's pre-season game between the Saskatchewan Roughriders and the visiting Winnipeg Blue Bombers.
Article content
The Riders bounced back from a slow start to their pre-season opener by engineering a fourth-quarter rally at Mosaic Stadium, but it wasn't enough Winnipeg as won 25-16 to complete its exhibition slate with a 1-1 record.
Next up for the Roughriders is Friday's pre-season finale against the host B.C. Lions (8 p.m., TSN).
Here are some observations from the first pre-season CFL game at Mosaic Stadium since 2019:
FINE LOOKED FINE
Mason Fine still has the inside track on being the Riders' second-string quarterback, behind Cody Fajardo. Fine was already in that position because of the experience he gained during limited action in 2021.
Fine struggled during Tuesday's first half, but was better in the fourth quarter and looked more comfortable. Overall, he completed 13-of 18 passes for 114 yards with a first-half interception and a fourth-quarter touchdown pass to Jester Weah.
Jake Dolegala and Troy Williams, who are also vying to be the backup quarterback, had mixed results.
Dolegala completed six of 10 passes for 70 yards, with an interception and a touchdown pass to Dieuly Aristilde Jr.
The 6-foot-7 Dolegala exhibited a strong arm on a number of passes, although none of them were deep. Williams showed some elusiveness while completing five of seven attempts for 41 yards.
BATTLE OF THE BACKS
Questions still surround who will be the starting running back.
Returnee Jamal Morrow had only three carries for 23 yards, but showed his explosiveness and speed during a 16-yard scamper.
Article content
Frankie Hickson rushed for a team-best 47 yards on six carries, demonstrating a nice combination of power and speed.
CFL veteran Shaq Cooper had two carries for five yards.
It's a three-player race, with the final decision to be made after Friday's game.
EMILUS IMPRESSIVE
Samuel Emilus had two receptions for 32 yards, showing why he was the seventh overall selection in the 2022 CFL draft.
Twenty-one of those yards were picked up on a fourth-quarter pass from Fine.
The Riders are looking for another starting Canadian receiver to complement Kian Schaffer-Baker. Emilus has made a case for himself with a strong training camp and a fine follow-up on Tuesday.
RAM TOUGH
It was a notable night for two members of the University of Regina Rams.
Riley Boersma had had three receptions for 23 yards for Saskatchewan, which chose him in the eighth round of the 2022 CFL draft.
Boersma stood out in rookie camp and, at times, during main camp. The Riders are so stacked at Canadian receiver, however, that it would be a challenge to find a roster spot for him. He has U Sports eligibility remaining so there isn't any urgency to get him on the active roster.
The Blue Bombers utilized Regina-born running back Kyle Borsa extensively in the first quarter, as he touched the ball on seven of Winnipeg's first 12 plays from scrimmage.
On the night, Borsa had nine carries for 20 yards (with a long gain of 17) plus an 18-yard reception.
Borsa was tackled for losses of two, six and eight yards. Those carries aside, he rushed six times for 36 yards.
Article content
Canadians Brady Oliveira and Johnny Augustine are expected to be Winnipeg's primary running backs with the departure of Andrew Harris, but Borsa could also be an option.
DEFENCE HOLDS
The Blue Bombers gambled three times on third-and-short inside the Riders' 10-yard line in the first half. The Riders' defence stopped Winnipeg each time.
The sports world is ever-changing, as are the times. Supplement your steady diet of sports coverage by subscribing to the Regina Leader-Post's 306 Sports Fix newsletter. Each week, sports editor Rob Vanstone will provide additional commentary on the Roughriders, Pats and other teams/sports of interest, along with a peek behind the curtain. Click here to subscribe.