Of all his books, my favourite just might be L'art presque perdu de ne rien faire, a reminder of the joy that comes with living in the moment.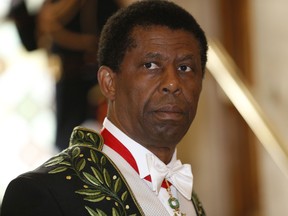 Article content
In 2023, Montreal author Dany Laferrière will turn 70. Laferrière is the only Canadian to be inducted in the famed French Academy, headquartered in Paris. Wikipedia calls the academy, founded in 1965, the principal French council for matters pertaining to the French language. And it is. Its members are called Immortals and one of them is one of us.
Article content
Internationally applauded and with his work translated into many languages, Laferrière is more than an author. He's also an illustrator, a poet and a dreamer. As he approaches the milestone of 70, it's not too early to talk about his legacy. Besides bringing so much pride to our province, Laferrière has made us see Haiti differently. With the latest headlines about political unrest coming from the country's capital, his words are now as soothing as ever and his lyrical prose can serve as a reminder of what can be again.
Article content
But of all his books, my favourite just might be L'art presque perdu de ne rien faire: the near-lost art of doing nothing. The book is a reminder of the joy that comes with taking the time to live in the moment.
Article content
But are we even set up as a collectivity to truly stop and smell the roses or, as Laferrière has suggested, slow down to enjoy eating a mango?
Earlier this week, on Monday, we marked World Mental Health Day. Some companies recognize it by granting their employees a day off (though in Canada, it coincided with Thanksgiving this year), one, as recent numbers show, is much needed. In May, a firm surveyed 500 Canadian professionals, and 38 per cent of them reported being more burned out than a year ago.
Even as many of us have more flexible work options, notably with hybrid models, we're still in a constant hustle and always trying to catch our collective breath. Employers have noticed and some have implemented new policies to help slow down the frantic pace. From implementing the France-inspired right to disconnect (from tech tools) — so no emails between set times — to allowing more flexible hours.
Article content
But for the culture that exhausts us to change, we must all pledge to do better. That includes the business sector. Halloween, for example, is in October. Is it necessary to start advertising and selling trick-or-treat goodies while I'm still wearing pre-Labour Day white jeans and open-toe shoes?
In early August, a beloved and acclaimed Montreal restaurant sent out an email about planning for holiday parties. In August? Simmer down, restaurateurs. Back-to-school commercials are still being rolled out. If people want to book Christmas parties in the middle of summer, let them call you and make the arrangements. Give the rest of us a break and let us enjoy the 30-degree weather without having to think about Santa Claus, winter boots and snow removal.
Article content
And we must ask ourselves, what is the chase all about? What are we after? These are rhetorical questions, of course, for which I have no answers. Like many, I have gone back to a pre-pandemic pace. That's nothing to be proud of, regardless of the fact that I absolutely love what I do and slowing down would probably, well, give me vertigo. But like other ailments, it would be treatable.
So what would it take for retailers to not put up parkas in their windows before the leaves have turned red? Or for Halloween costumes to not be on sale the same week as school uniforms? That constant pursuit of the next-thing-on-the-agenda contributes to our mental exhaustion. There's a considerable amount of daylight between booking a Christmas party while it's still summer and procrastination. I'm sure we're capable of finding the sweet spot.
It's unfortunate our societal culture neither rewards nor encourages living in the moment. The truth is we deserve better.
Martine St-Victor is general manager of Edelman Montreal and a media commentator. Instagram and Twitter: martinemontreal
Josh Freed: Our speed-crazed world shows no signs of slowing down

Going deep with Dany Laferrière: new book is an absorbing encounter

Celine Cooper: The 'right to disconnect'? Nice idea, but it won't work