Candidates need not be perfect. But is it too much to want them to not be so offensive?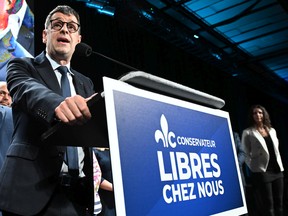 Article content
CTV News and Noovo were the first to report the Coalition Avenir Québec had been re-elected with a majority. Since then, politicos have been looking into crystal balls and reading tea leaves while opining on what each party must do differently and better in time for the next provincial election in four years. 
Article content
It's not only party leaders who need to make adjustments. So do voters and journalists who report on politics.
Article content
In 2014, Conservative Party of Quebec Leader Éric Duhaime said the Black community had few heroes. "Unfortunately, when they do have heroes, they often end up being zeros," he added. Two years later, he minimized the gravity of rape by comparing it to a car theft. He advocated for the abolition of Quebec's Fédération des femmes. He said there is no need for a ministry responsible for the status of women.
When he said these things, Duhaime wasn't some drunk college student in a dorm, far away from the bright lights and the big city. He was an influential radio host in the provincial capital. Can people make mistakes? Yes. Should they — we — be able to make up for them? Also, yes. But when you espouse such grotesque positions and spew so much violence, any attempt at contrition or redemption should be part of the image rehab you're trying to sell — particularly if you're running for office. 
Article content
It's an exercise Duhaime never attempted in almost 40 days of campaigning. Still, he was rewarded by being normalized by both media and electors. How else to explain that he wasn't pressed about his past vulgarities at every single interview, every single day? When Radio-Canada's Alain Gravel pressed him about past comments, in an interview over the summer, Duhaime was dismissive, aggressive and seemed upset Gravel had even dared to ask him the question. 
And how to explain Duhaime's party got 12.91 per cent of the popular vote? Do these 530,768 people endorse the PCQ leader's views on women, sexual violence and the Black community? I'm sure they don't. But they tolerate them. And that's harmful. Just look south of the border — or at France or Brazil or Hungary — to see what happens to a society when extreme views take hold.
Article content
Some political analysts say Duhaime was able to tap into the anger of a certain segment of the population, particularly in regard to a distorted definition of freedom to which they subscribe. 
Well, everyone has something to be angry about. If you aren't able to get a family doctor, you should be angry. If you're worried about where your aging parents will be able to live after they lose full autonomy, you should be angry. If you can't find affordable daycare, you should be angry. Because there have been so many broken promises on these and other societal ills. Still, that anger is not a licence to tolerate and minimize the unacceptable.
Candidates need not be perfect. But is it too much to want them to not be so offensive?
Article content
Candidates should strive to represent the best of who we are. That's something the CAQ's Jean Boulet should remember. The outgoing immigration minister was easily re-elected in Trois-Rivières, where I was born and lived for a few years. Boulet's recent incendiary comments about immigrants couldn't reflect less the Trifluviens who — like most Quebecers — are welcoming. Yet, Boulet got a pass. 
We'll see many new faces in the National Assembly, and that's exciting. Our role includes keeping them accountable and raising expectations. Being an elected official is a privilege and a responsibility. So is the right to vote. Next time around, may we be more diligent and demanding so those running for office can truly be worthy of representing the best of what we can be.
Martine St-Victor is general manager of Edelman Montreal and a media commentator. Instagram and Twitter: martinemontreal