With all this earning potential will come influence and responsibility outside of sports because, well, money talks.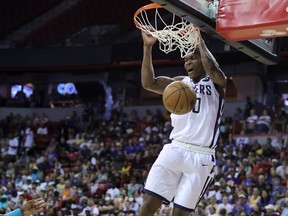 Article content
The NBA is currently holding its Summer League. It's an amuse-bouche, if you will, before the league's regular season and it features recently drafted rookies. This year's edition can be of particular interest to Montrealers, as a local, Bennedict Mathurin, is part of the roster. Picked by the Indiana Pacers sixth overall at last month's high wattage NBA draft — highest ever for a Quebecer — Mathurin has joined elite sports. Terms of the contract were not disclosed, but it is thought to be worth approximately $30 million US over four years, meaning he has also joined a new business elite.
Article content
Tennis great Arthur Ashe died in 1993, but his legacy lives on. Not only because a stadium bears his name in New York, but rather because Ashe had transcended his sport. His activism — and words — have trickled down in impactful ways still reverberating today. In a recently resurfaced interview he had granted the BBC, Ashe revealed that he had never thought of himself as an athlete or as a tennis player. He continued by cautioning athletes against defining their own sense of self, self-worth and of self-image solely based on how good they are at their sport. "You're only an athlete for a certain length of time," reminded Ashe.
It's a sage warning heeded by many of today's top athletes. Lucrative contracts are nothing new in the world of sports, but today's richest sports figures are also investors and CEOs of companies they've built. Last month, NBA superstar LeBron James became a billionaire. James joined the likes of tennis player Roger Federer, golfer Tiger Woods and golden foot Lionel Messi in the exclusive-for-now club of athletes to have crossed the billion-dollar threshold.
Article content
The money comes partly from James's main job as a basketball player. The rest comes from various endeavours, like his TV and movie production company and his equity in large and successful brands. We're a long way from the time when athletes' idea of investment was slapping their name on a mom-and-pop-style eatery.
Younger athletes have been paying attention and taking notes from Professors Woods and Federer. And the ones hailing from the U.S. college circuit, like Mathurin, advocated for and got "NIL rights." The acronym means college athletes can — since last year — profit from their name, image and likeness through deals with brands, for example, before getting to professional leagues. The accumulation of wealth thus starts sooner than ever.
Article content
Like many of his contemporaries, Bennedict Mathurin has a promising potential financial trajectory, particularly because he speaks several languages, making him appealing in multiple markets.
But with all this earning potential will come influence and responsibility outside of sports because, well, money talks. During the last U.S. presidential election, LeBron James led nationwide voting registration efforts and enlisted fellow business leaders to join his initiative. It was a massive success. He has spoken out against such social ailments as police brutality and has taken stands against discriminatory policies and he's worked with community leaders to drive change.
Many may prefer athletes to just shut up and dribble and for politics to stay out of sports, but various surveys confirmed that most of us want business leaders to be vocal and visible when it comes to societal issues. And as athletes now also run businesses, the intersectionality between sport and enterprise will become even more common. We've witnessed the rise of the activist CEO in the United States: challenging status quos, and speaking out against inequality and injustice, standing up to politicians.
Alas, too many Canadian CEOs have remained timid when it comes to such positioning. Bennedict Mathurin doesn't have to be the same kind of business leader as LeBron James. But I hope he will be, and will make his influence felt on this side of the border, including here in Montreal. We need it.
Martine St-Victor is general manager of Edelman Montreal and a media commentator. Instagram and Twitter: martinemontreal
Montrealer Bennedict Mathurin selected by Pacers sixth overall in NBA draft

Montrealer, Pac-12 Player of the Year Bennedict Mathurin declares for NBA draft