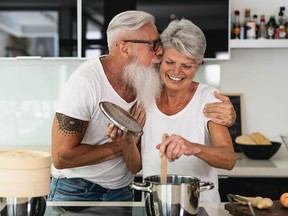 Reviews and recommendations are unbiased and products are independently selected. Postmedia may earn an affiliate commission from purchases made through links on this page.
Article content
For some people, marriage adds grey hairs, wrinkles and frown lines. For others, it adds extra life.
Article content
A new study looks at the association between marital status and mortality and determined that being unmarried "substantially increases the risk of death."
The study, published in the journal JAMA Network Open, found that being married was associated with a 15% overall lower risk of death from all causes compared to those who are unmarried (defined as people who were single, separated but still married, divorced or widowed).
The researchers out of Japan's National Cancer Center examined the medical records of half a million people in their 50s in Asia over 15 years and also determined that married couples had a 20% lower risk of dying from accidents, injuries and heart disease.
Previous studies largely centred on western populations leaving evidence in Asian populations "limited."
Article content
The team examined data of 623,140 people, who were an average age of 54 and were mostly (86.4%) married.
During the 15-year study, a total of 123,264 fatalities were recorded with most deaths resulting from cancer (41,362), cerebrovascular diseases (14,563) and respiratory diseases (13,583).
People with underlying conditions such as cancer, diabetes and high blood pressure were more likely to live longer if they were hitched.
When it came to heart disease, heart attacks and heart failure, 17% of singletons were more likely to die from a circulatory system disease, 19% had a greater risk of dying from an accident or injury, 14% had a higher risk of suffering from a respiratory disease such as lung disease or asthma, while 6% had an increased risk of dying from cancer.
Article content
That said, researchers noted several factors that could play a part in the correlation, such as people with lesser financial means who have underlying health conditions may not be considered marriage material.
Married men saw the biggest drops in mortality rates, with research pointing out that men who are tied down are less likely to take risks, get into accidents or consume alcohol and drugs.
The "protective effect" of marriage, where a partner encourages their spouse to seek medical treatment, could be a contributing factor, according to the study, as are better financial situations and healthier lifestyles.
Bad news for women, though, as a deep dive into the data revealed that their mortality benefited less if they were married.
Researchers said that could be due to domestic labour not being equally divided in Asian marriages, thus putting more stress on women which "may counteract the health benefits of marriage."
The study also pointed out that unmarried women are more likely to have a job and have more money and access to better health.