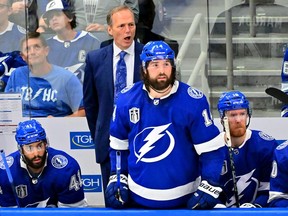 Article content
TAMPA, Fla. — Pat Maroon couldn't help himself.
Article content
When asked what the Tampa Bay Lightning have to do heading into a do-or-die Game 5 against the Colorado Avalanche, the 6-foot-3 power forward refused to mince his words.
"We have to go win a ­f—ing game right now," he said. "Sorry. We have to go win a game. Right now our focus is Game 5, and we have to go win. I mean, there's nothing really we can do."
Article content
That's all the Lightning can do. And though history is not on their side — teams leading 3-1 in the Stanley Cup final are 35-1, with the last one coming in 1942, when the Toronto Maple Leafs came back after being down 3-0 to the Detroit Red Wings — this is not the first time that the Lightning have found themselves left for dead.
They trailed 3-2 in a first-round series against the Leafs and were down 2-0 against the New York Rangers in the East final. Still, the hole that the Lightning have to dig for themselves is considerably larger.
Article content
"You turn the page move on and like let's go," said Lightning head coach Jon Cooper. "So that mountain's a little bit higher. Well at least we're still climbing. We're not out, and hey (whether it's) 3-1 (to Colorado), or 3-2 to Toronto. What the hell's the difference? We still have to go on the road and win a hockey game. We were going to have to win a game on the road regardless. We didn't have home ice. So why not tomorrow?
"We have a proud group, because that's why we're in a third straight final. And it takes more than talent alone to get where we are and do what this group of players has done. And pride is a big, big part of it. But listen, we're still kicking. Our pride will kick in again, but like I said this group is much more than just a bunch of talented hockey players."
Article content
At the other end, the Avalanche is a team that has been able to close out series pretty easily. They swept both the Predators and the Oilers, but needed an extra game to finish off the Blues after leading 3-1.
"I've liked the way we've closed series out," Avalanche head coach Jared Bednar said. "I think the toughest one and the one that we had to bounce back from against the Blues was a real tough loss at home and we went over there in their building and played really well. And then the other series in Edmonton we had to come back from behind in Game 4 and we did a nice job of sticking with the effort and playing to our identity. Really the whole playoffs we've been trying to do that. Some nights are better than others. But I don't see why we wouldn't come out and try to play to our identity."
Article content
KADRI'S PLAYOFF PEDIGREE GROWS AFTER OT WINNER
A day later, the Avalanche continued to heap praise on heart-and-soul forward Nazem Kadri, who returned from a broken thumb and played the overtime hero in Game 4.
Not that anyone was surprised.
Kadri, who has seven goals and 15 points in 14 games, has been a force in the post-season, particularly in a second-round win against St. Louis, where he scored a hat-trick and led the team with four goals in six games.
"He's just been really consistent for us," said defenceman Cale Makar. "Obviously, he went down with the injury there and last night I feel like he played his role well and was able to keep his feet moving for most of the game. So you can't ask for much more than that from a guy coming back from a couple of weeks off."
Article content
Added forward Darren Helm: "Yeah, he was great last night. He's been great every time he hits the ice, before his injury or not. He brings a lot of energy and he's a big-time player. He's scored a lot of big goals in the playoffs and obviously, last night was the biggest one."
LIGHTNING COULD BE SHORT-HANDED FOR GAME 5
If the Lightning is going to force a Game 6, it may have to do it while short-handed.
Defenceman Erik Cernak left during the second period on Wednesday after blocking a shot from Nathan MacKinnon. But a bigger loss could come if shutdown centre Anthony Cirelli — whose arm appeared to get clipped by teammate Alex Killorn's skate — joins Brayden Point on the injured list.
"We'll see this is a quick turnaround and so I haven't seen Tony. I'll have an update for you tomorrow though," said Cooper, who also didn't have an update on Point. "Again yeah, let's let's circle back about that tomorrow."
Article content
As for the defence, Cooper was pleased with how they responded without Cernak.
"They did great, but that's the part that hurts is when you lose a 'D' and a significant player in our team as the game is drawing on, just the minutes are piling up, but our guys did great. It's like I said, we were one short, let's try not to be one short tomorrow night."
IS RANTANEN A CONN SMYTHE CONTENDER?
With 25 points in these playoffs — including eight assists in the Stanley Cup final — Mikko Rantanen is making a case for the Conn Smythe Trophy.
"I think he's playing to his strengths," said Bednar. "He's been strong on the puck and playing with guys on his back and his head up and finding teammates when they're open and shooting the puck real well … I like the mix of what he's doing."