Roughriders' Garrett Marino won't appeal his suspension and apologized for his action in Friday's game.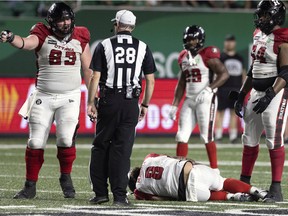 Article content
Marino said in a statement posted by the Riders on Twitter that he won't be appealing the suspensions he was assessed on Monday by the CFL. He also apologized for his actions, stating that they "had no place in football.
"I also apologize to Jeremiah Masoli of the Ottawa Redblacks, as I did not intend to injure him. I have tried over the past few days to connect with him directly and will continue to do so," Marino said in the prepared statement.
The league suspended Marino for two games due to what was termed a "dangerous and reckless low hit" on Masoli and the resulting antics, which led to the 27-year-old lineman being disqualified.
After flexing his muscles, Marino doubled down by raising his hands in the air and blowing kisses to the crowd as he headed to the dressing room.
Additionally, Marino was handed one-game suspensions for an alleged reference to Masoli's heritage — he is of Polynesian descent — and for an "illegal and reckless tackle" of a Redblacks offensive lineman on a different play. Masoli will be sidelined for 10 to 12 weeks due to the injury.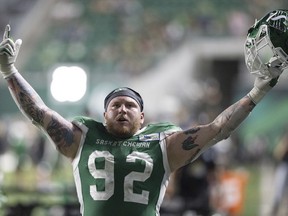 The Riders, meanwhile, extended their "sincerest apologies to Jeremiah Masoli and have expressed those apologies to several members of the Ottawa Redblacks. We wish him a smooth and speedy recovery."
The Riders added that that the comments and actions by Marino do not represent who they are as an organization or the work the CFL team does in the community.
The teams said in a prepared statement that a donation to the Redblacks mentorship program will be made in Masoli's name. The program connects with youth who have experienced racism and discrimination with mentors and provides encouragement, support, guidance, and strategies for youth to reach their fullest potential.
Article content
Marino's suspensions starts Saturday when the Riders play the Toronto Argonauts in the Touchdown Atlantic game in Wolfville, N.S.
Here is Marino's complete statement:
"I have received my discipline from the CFL regarding the game we played on Friday, July 8th, 2022. I will not be appealing the suspensions given to me by the CFL and I have spoken to the Players' Association who will not be appealing on my behalf.
I want to apologize for my actions that day, as I understand that they have no place in the game of football. I also apologize to Jeremiah Masoli of the Ottawa Redblacks, as I did not intend to injure him. I have tried over the past few days to connect with him directly and will continue to do so.
Regarding the comments I made during the game, I regret that I said them, as I now understand their consequences. This was not my intent when speaking on the field, nor is it ever my intent in my day-to-day life.
I know I play the game with an edge, and during the game I made an insensitive and culturally stereotypical remark. I now understand this was hurtful to my peers and I hope I can be forgiven for that misunderstanding.
I take pride in being a good teammate and a valued member of the Saskatchewan Roughriders Football Club. I did not intend for my comments or actions to be hurtful, and I take solace in my teammates, knowing that I stand with all of them, regardless of race, ethnicity, or sexual orientation.
I will not be commenting on this matter again but will be working to better myself as I serve this discipline and prepare to rejoin my teammates on the field."
The sports world is ever-changing, as are the times. Supplement your steady diet of sports coverage by subscribing to the Regina Leader-Post's 306 Sports Fix newsletter. Each week, sports editor Rob Vanstone will provide additional commentary on the Roughriders, Pats and other teams/sports of interest, along with a peek behind the curtain. Click here to subscribe.