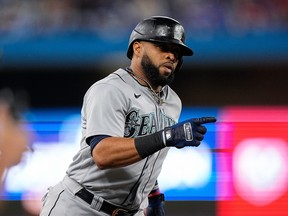 Article content
That the Seattle Mariners flat-out won the 2022 trade deadline day can no longer be debated.
Article content
First Luis Castillo, obtained from Cincinnati at the deadline, carried them through Game 1. Then, in the sixth inning Saturday when it was almost a near certainty that Seattle would be playing for their post-season lives in a do-or-die Game 3 on Sunday, another deadline-deal pickup in former K.C. Royals slugger Carlos Santana restored belief that a sweep was still possible.
Article content
Down 8-1 after five innings, it was Santana's three-run homer off reliever Tim Mayza that got the Royals within three runs and put the brakes on hard to what was shaping up to be a Toronto runaway.
Even then, and manager Scott Servais acknowledged this post-game addressing the media with his champagne-spray protecting goggles still perched on his forehead, a comeback of the magnitude the Mariners managed still required some luck along the way and that came on multiple fronts in the Mariner's game-tying four-run eighth inning.
Article content
With a run already in and the bases loaded and two out, light-hitting shortstop J.P. Crawford looped a ball into shallow centre field that had Jays infielders and outfielders alike charging from their respective positions.
The result was catastrophic for the Jays and pure jubilation for the Mariners, as centre fielder George Springer and shortstop Bo Bichette collided with Bichette's elbow seemingly catching Springer in the head as the ball fell for what would become a three-run double.
Players from both teams stood around nervously as first Bichette and then Springer slowly got to their feet, Springer requiring help and then a cart to wheel him off the field and back to the clubhouse.
It was by no means a pretty hit or one anyone will ever try to duplicate, but it managed to pull the Mariners all the way from an earlier 8-1 deficit to tie the game at nine.
Article content
The pretty hit of the night for the Mariners would come in the ninth as Adam Frazier, a guy who has struggled with the bat all year, laced a clean double into the right-field corner to score catcher and all-time nickname possessor Cal 'Big Dumper' Raleigh from second with the eventual winning run.
"It's tough to come back," a beaming Servais said about 30 minutes after his team ensured the first playoff baseball would return to Seattle in 21 years.
"It's tough to come back in the playoffs against that team in this building," he said. "We were up against it, but credit to our players. We don't quit. We haven't quit all year. There's a certain resolve that our group has. They just believe in each other. We talked about it coming into this series. We were going to have difficult moments. We knew that. That's what happens when you play on the road in big games."
Article content
The road comeback from 8-1 down isn't just a big one, it's the biggest such comeback in Major League history, something Servais only had two words for it.
"That's awesome," he said. "We were up against it tonight, but great games by a lot of our guys. I think the biggest thing for me is that we didn't try to do too much. We just tried to keep the line moving is a common phrase we use around our club."
Never was that more evident than in the game-turning four-run eighth inning when a Eugenio Suarez double was followed by three consecutive singles that just seemed to find holes where needed.
Santana may not hit as consistently as he would like, but when he has come up with hits for the Mariners this year, they have all seemed to be timely.
Article content
Crawford, though, said his on-field contributions were only a small part of what the veteran slugger brought when he came over from the Royals in July.
"What he has done on the field this year is unbelievable, but to be honest, he's been a better leader," Crawford said. "He came in. He made our team ten times closer.
"We played in Philly together," Crawford said. "He took me under his wing over there. Then he got over here, I was so happy because I just know I now have that older brother I can go to for anything. If I have any questions, any advice or anything, you go to Carlos.
"He is the guy who had the idea of the winning dance," Crawford said. "Then he gets everyone closer. He brings everyone closer together. You need those type of guys on your team."
Article content
And it was that closeness that Servais continually brought up as the reason this team was able to come back from 10-games down to earn a playoff spot and why his team was able to come back from an eight-run deficit with just 10 outs remaining to move on to the American League Championship Series.
The Mariners will once again have their hands full in the ALCS with a rested Houston Astros team waiting. Servais knows this but he also knows what he has in his locker room.
"They're really good," Servais said looking ahead to the Astros. "We understand that. We're really good. I think you respect everybody in the game. I certainly do. I know how hard it is, but our club fears no one. I truly believe that."
He wouldn't get any disagreement from anyone who witnessed Saturday's game.
Luis Castillo's gem puts the Seattle Mariners in charge of American League wild-card series against the Blue Jays

SIMMONS: The night the Blue Jays stopped smiling. 'It's the worst feeling in the world.'