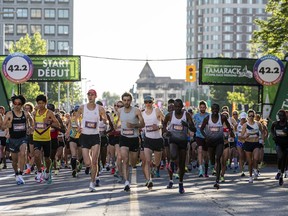 Article content
After a weekend that came complete with a new course record in the men's marathon, a Canadian women's champion for the first time in 17 years and $975,000 raised for charity, Tamarack Ottawa Race Weekend organizers were ecstatic.
Article content
"If you spent time down there watching people cross the finish line, there's 100 different emotions on 100 different people's faces and that's what drives our team," said race director Ian Fraser, talking about returning to the scene for the first time since 2019.
"So much has changed. It gave us a chance to welcome the community back and create some noise in downtown Ottawa that's positive. It's about community. It's about joy and I think the enthusiasm of the participants (Sunday) was overwhelming."
Article content
All told, 25,600 from 41 countries took to the streets on the weekend in the 2 kilometre, 5K, 10K, 21K half marathon and 42K marathon events. The finishing line was complete with high fives and the pleasure and agony of completing the feat.
Article content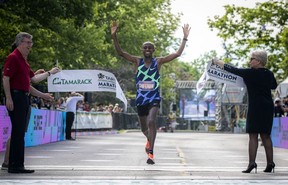 Andualem Shiferaw, winner of the marathon at Tamarack Ottawa Race Weekend, Sunday, May 29, 2022.
BLISTERING MARATHON PACE
At the top end of the marathon was Andualem Shiferaw of Ethiopia, who didn't seem fazed in the least by the rising heat.
Shiferaw's blistering pace of 2:06:04, a full 3:20 ahead of second place finisher Abdi Ali Gelchu, broke the previous mark established by Yemane Tsegay in 2014.
Sunday's time was also the fastest marathon time recorded in North America so far this year.
After his victory, Shiferaw wrapped himself in the green, red and yellow flag of Ethiopia, and danced back to the final metres of the course to celebrate with the crowd.
"I am so happy," Shiferaw said, through a translator. "It was a nice day for me. They (the fans) supported me."
Article content
Shiferaw broke from the pack after 28 kilometres and never looked back, repeating what he has done lately in winning seven of the past eight marathons he has entered.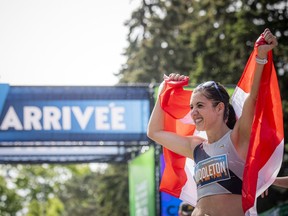 Kinsey Middleton, top female and top Canadian female to finish the marathon at Tamarack Ottawa Race Weekend, Sunday, May 29, 2022.
RED AND WHITE AT THE TOP OF WOMEN'S MARATHON
When Canada's Kinsey Middleton claimed the women's marathon title with a career best time of 2:30:09, no one was more surprised than she was.
"This is a day beyond my wildest dreams," she said. "I was shooting for a top five finish and just a solid (personal best). That was the goal. So to come away with the win, that was…I couldn't be more thrilled."
Elissa Legault finished second in 2:33:27, giving Canada a 1-2 finish in the women's marathon.
Article content
The red maple leaf figured prominently in the victory celebrations.
Visa problems meant many of the expected top runners from Africa were unavailable. A few did arrive in the wee hours of Sunday morning, but the fatigue, coupled with the heat, caused them to drop out early.
That left the door open for Middleton, who took over the lead at 28 kilometres and fought through her own fatigue, with the help of pace-setters Kevin Coffey and Lee Wesselius.
"I kept asking one of the pace guys, how far back (is the second place runner) because I can't see anyone," she said. "My legs were coming off in the last five kilometres. I went from feeling on top of the world to just getting finished. But that's the marathon. You have to respect the distance."
Article content
Middleton praised her pace runners for keeping her on track. She says Wesselius was even cracking jokes to keep her focussed down the stretch.
"It's all her, I was just happy to help out a little bit," said Wesselius, who took on the pace setting duties after finishing fifth in the men's 10K on Saturday, with a time of 29:57.6.
Middleton, by the way, said she would celebrate by having "mimosas" with her roommate, Natasha Wodak, who claimed the Canadian 10K title on Saturday evening.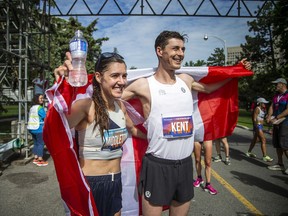 KENT BEATS THE HEAT
When Middleton also talked about the great current state of Canadian distance running, she was including Justin Kent.
Kent was the top Canadian male, sixth overall, with a time of 2:13:34. That shaved almost four minutes off his previous best time.
Article content
"I would love a little ice bath and a Slurpee would be delightful," Kent said moments after finishing his race. "It was really tough. I tried to stay pretty calm and composed. No matter how you pace it, those last five or six kilometres just burn and it was right when it started getting a little hotter. It all multiplies out there, but I'm delighted."
As was the case with all the finishers, Kent said the spectators on the course provided motivation and inspiration throughout.
"Totally, especially with what everyone has gone through for the last several years," he said. "I'm never going to take a start with a crowd for granted again. In the last six or seven kilometres I just soaked up the energy. It was amazing."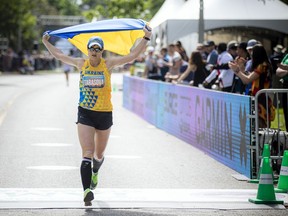 RUNNING TO RAISE FUNDS
Article content
With more than 25,000 runners on the roads on Saturday and Sunday, there were 1,000 different reasons for running.
A few were sporting yellow and blue Ukranian flags. Ashbury College set the record for largest participation group, with 500 students and staff taking part in Saturday's 5K, all donning pink T-shirts.
And then there was J-P Morand and his 16-year-old son, Victor, who crossed the marathon finish line in just under three hours.
Victor, who has muscular dystrophy, was riding in a modified three-wheel running chair that his father pushed as he ran the 42 kilometres.
The two are from Quebec City.
"I started running with him maybe 10 years ago," said J.P. "It's our ninth marathon, our fifth one here. I just want to do something to help for the research.
Article content
I love to run with my son and I think he loves to run with me."
Victor nodded at that.
"I think I was 11 when we did our first one," he said.
J-P is a triathlete and says he completed a "virtual" Boston Marathon in Quebec City in 2:50.
"I want to prove that anything is possible," he said. "Three years ago we did a better time, but it is very hot."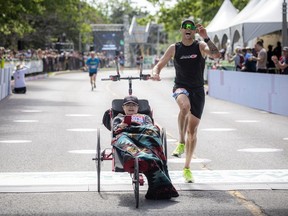 A POWERFUL END TO TOUGH WEEK IN OTTAWA
Indeed, the heat hit 25 degrees celsius as the final runners crossed the line in mid-afternoon, a bit higher than ideal.
Yet considering everything that race organizers have been through — two years of pandemic absence, coupled with the hiccups stemming from additional COVID-19 waves, and the scare of last weekend's storm that kept many without power during the week — there were smiles all around. With a little dark humour to go along with it.
"On Thursday at the race expo, we opened it up for 500 for more participants," said Fraser. "There were a couple of people who said, 'well, we don't have any power. What else are we going to do? So, they signed up for the 5K. You can find a positive thing in every bit of adversity."