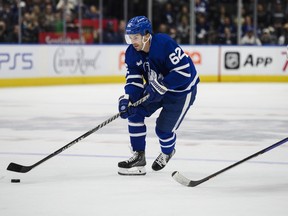 Article content
Denis Malgin's strong camp with the Maple Leafs has landed the winger a roster spot.
Article content
Malgin wasn't among the players the Leafs placed on waivers on Sunday, a clear sign that for now, Malgin is in the Leafs' plans to begin the regular season.
Article content
Not so fortunate were four veterans — forwards Wayne Simmonds, Kyle Clifford and Adam Gaudette and defenceman Victor Mete — who have been put on waivers.
Article content
With rosters due the National Hockey League on Monday at 5 p.m., the Leafs have to get down to a more manageable number, especially financially. 
The Leafs also did the expected, signing winger Zach Aston-Reese to a one-year contract with an AAV of US$840,630. Aston-Reese was effective through camp after arriving on a PTO and has helped form a dependable line with David Kampf at centre and fellow newcomer Nicolas Aube-Kubel on the right. 
Article content
Gaudette's camp was hampered after he suffered a shoulder injury early on, and he got a final look playing on a line with Malgin and centre William Nylander on Saturday night in the pre-season finale against Detroit. Malgin, however, capped his fine performance during the past few weeks with a highlight-reel goal against the Red Wings.
Auston Matthews, who knows a thing or two about putting the puck in the net, was impressed.
"Crispy," Matthews said. "That was nice. He has looked unbelievable all camp. The confidence, he just looks strong out there. It's been a lot of fun watching him."
Simmonds, who broke in with the Los Angeles Kings in 2008, has never played a game in the American Hockey League. There's a chance that could continue, as Sportsnet's Elliotte Friedman tweeted on Sunday that the Leafs have informed other NHL teams that Simmonds is available for trade.
Article content
"When I isolate him in his camp, I think he has done a good job in his effort and his execution and his attitude in how he has handled it, knowing that he is in a battle," Leafs coach Sheldon Keefe said recently, referring to Simmonds. "He has been a true professional in that sense."
Competition in Leafs camp was fierce, especially among depth forwards. 
Nick Robertson shone, and should be in line to get a shot in the top six when the Leafs start the regular season on Wednesday in Montreal against the Canadiens.
IN GOAL IS GOOD
The belief that Keefe had in the team's new goaltenders at the outset of training camp became reality by the time the pre-season ended.
Now, it's on Matt Murray and Ilya Samsonov to carry forward to the regular season their solid play in the past few weeks.
Article content
Murray finished the pre-season with a sparkling .969 save percentage in three games, stopping 63 of 65 shots he faced. Samsonov had a .917 save percentage in three games, allowing six goals on 72 shots. 
This after there were legitimate question marks from the outside regarding the off-season acquisitions of Murray and Samsonov. Both will be looking to bring some respect back to their NHL careers in 2022-23.
As much as the Leafs are solid and deep at forward and defence, the club's playoff aspirations will hinge on the goaltending. 
For now, Keefe is happy.
"I came into this camp with nothing but optimism in our goaltending," Keefe said. "I really believe in both guys, in particular with their talent, and we talked about their experience. 
Article content
"The way that they've approached their off-season and training camp gave me every reason for confidence and belief. We understand the questions and understand the things that come with the changes that we made and with some of the results that those guys have gotten (in the recent past), but we've had nothing but optimism and those guys have delivered. They're focused on getting better and being prepared."
RECOMMENDED VIDEO
Murray is expected to get the start on Wednesday in Montreal. That would give Samsonov the nod the following night when the Leafs play host to the Washington Capitals, Samsonov's former team, in Toronto's home opener. 
"We're excited as a group (to get the regular season going)," Murray said. "We're heading in the right direction.
Article content
"I'm just trying to build every day and peak at the right time. As a group and individuals, that is where we are at."
LOOSE LEAFS
The Leafs will practise on Monday and Tuesday after getting a full day off on Sunday … We'll get a better idea on Monday whether there is any chance captain John Tavares is ready for the opener after recovering from an oblique strain. If not, we could continue to see Nylander at centre. "I'm comfortable with Willie playing centre anytime," Keefe said. "Regardless of John's situation, I've used Willie at centre different times and I don't have any real hesitation to do that. It was a good opportunity for us to get (Nylander) into some of the reps there."