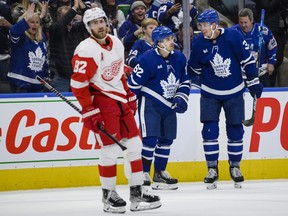 Article content
In the hours leading up to his final audition to crack the Maple Leafs roster, Denis Malgin said he wasn't nervous. 
Article content
Now the nifty winger gets to sit and wait.
Article content
Malgin scored another pretty pre-season goal on Saturday night, capping a fine quest to earn a spot in the Leafs' opening-night lineup.
The Leafs beat the Detroit Red Wings 5-1 at Scotiabank Arena in their exhibition finale, getting 18 saves from Matt Murray in his last tuneup before the regular season begins on Wednesday in Montreal.
Article content
Malgin, who signed a one-year contract after getting his game back on track with a couple of good seasons in Switzerland, finished the pre-season with four goals. 
Leafs coach Sheldon Keefe used, for the most part, his NHL lineup. Malgin and Adam Gaudette, who played with William Nylander in the middle, were battling for perhaps the final spot at forward.
Article content
Malgin may have got the upper hand when he burst into the Detroit zone, split the defence and went high-glove on Wings goalie Jussi Olkinuora at 11:55 of the second period. 
With rosters due to the National Hockey League at 5 p.m. on Monday, the Leafs still have several moves to make to get their house in financial order.
Pontus Holmberg had a good camp, but does not require waivers to be sent to the Toronto Marlies.
Nick Robertson doesn't require waivers either. It would be a shame to send him to the minors, as Robertson has had about as good a camp and pre-season as he could have desired. 
The writing seemingly has been on the wall for a while for veteran wingers Wayne Simmonds, who has never played in the American Hockey League, and Kyle Clifford. 
Article content
On the blue line, one of Victor Mete or Filip Kral would be the odd man out. Mete would require waivers, Kral would not.
The Leafs still had to clear just over $2-million US to get under the cap and find the money to sign winger Zach Aston-Reese, who has played well enough to earn a spot after coming to camp on a PTO.
"I don't think anything's ever cemented, simply because you just don't have all the information, especially with us," Keefe said. "We're going to be really tight to the cap as it is. 
"I know a lot of teams at different times have played short bodies (because of the cap). I've been in some meetings that I left pretty confused about a lot of the factors that are at play outside of the actual evaluation of the players. (The cap) is without a doubt a factor."
Article content
GAME ON
Auston Matthews used his patented shot, this time on a one-timer, to put the Leafs up by two on a power play early in the third. He did something similar later in the period for his second … Nylander was in mid-season form when he fired a shot over the shoulder of Olkinuora at 15:24 of the first period for his first of two. That tied the game 1-1 after Pius Suter went high on Murray's blocker side at 11:33 … Defenceman Jake Muzzin, playing in his first pre-season game after recovering from back discomfort, missed the latter part of the first period after heading to the room for minor repairs. He returned for the second … The Leafs placed forward Joey Anderson and defenceman Mac Hollowell on waivers for the purpose of being assigned to the Marlies. Assigned to the Marlies was a group of players who didn't require waivers: Goalies Erik Kallgren and Dylan Ferguson, defencemen Marshall Rifai and Mikko Kokkonen, and forwards Nick Abruzzese, Semyon Der-Arguchintsev, Bobby McMann and Alex Steeves.
Article content
MUZZIN OPENS UP
Muzzin acknowledged Saturday morning he got in his own head last season.
Not until the playoffs, when the Leafs lost in the first round against the Tampa Bay Lightning, did we see the rugged veteran play to his full capabilities. Injuries played a role during the regular season, as Muzzin played in just 47 games.
"During the season, there's ups and downs and it was just getting back to having fun," Muzzin said of his post-season performance. "I was putting a lot of pressure on myself to be the perfect player and that's impossible."
Where did the pressure come from? 
"Myself," Muzzin said without hesitation. "I felt like we had a really good group and I wanted to be the best version of myself and sometimes you put too much pressure on yourself. 
Article content
"It's not easy. It's a tough league, it's a lot of games and sometimes you can get a little lost and a little confused at what really makes you a good player."
Had Muzzin been better during the regular season, what he did in the playoffs might not have stood out as much.
"He was really good about acknowledging that, that he had a lot going on in his head last year," Keefe said. "He knows that he's an important player for our team on and off the ice in terms of what he provides and the leadership side of it.
"He came back come playoff time with a much clearer head, a focus on controlling what he can control and doing this thing on the ice and we saw the results. It appears to me that Muzz is in a really good headspace that way."
twitter.com/koshtorontosun