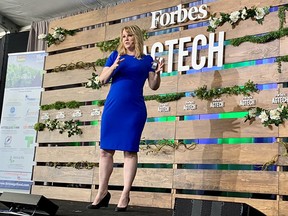 Article content
The importance of the agricultural industry to our economic recovery is getting a fair amount of attention. But of all the sectors recognized by the media, little has been written about manure — even though there's so much of it.
Article content
Livestock Water Recycling (LWR) is a Calgary-based company that has become an award-winning global manufacturer of manure treatment systems, providing cattle and hog operations with patented manure treatment technology to recycle water and reclaim nutrients for fertilizer.
Founded in 2010 by chief development officer Ross Thurston and CEO Karen Schuett, it has a mission to help farmers feed the world while reducing their costs and restoring the health of the farming ecosystem.
Schuett is constantly encouraging livestock farmers to reap the benefits of the LWR manure treatment platform.
A graduate in zoology at the University of Calgary, Schuett took a keen interest in hydrocarbon remediation and worked on a number of projects — including one with the underground jet fuel storage at O'Hare airport in Chicago — before being inspired to use her knowledge of contaminated groundwater to recycle wastewater.
Article content
LWR uses both mechanical and chemical treatments to remove manure contaminants and segregate valuable fertilizer nutrients at large livestock operations.
The enormity of the problem — and therefore the need to find a way to solve it — is highlighted by dairy farmers in California. Many now among her clients, Schuett paints a picture of farms where manure is stored in lagoons 15 feet deep and as big as football fields that have to be added to twice yearly. They take up a lot of space and smell awful — and they are made up of five per cent solid waste and 95 per cent water.
Using LWR technology that is developed and manufactured in its Calgary Innovation Centre, the waste is flushed directly from barn to a 40-foot-long system that changes waste to worth.
Article content
The technology digitizes and transforms manure into a high-quality clean water source, carbon and nutrient based fertilizers, and biogas feedstock. Odours are eliminated, groundwater withdrawals reduced, fresh water is protected from nutrient runoff, and greenhouse gases are reduced.
Farmers can grow more crops and produce more food using less money and fewer resources.
Expensive diluted manure storage is eliminated, providing farmers with the use of more land, recycled water is safer for animals and employees, less fresh water is used for irrigation, and crop yields increase due to the application of the available nutrient.
Today, the success of LWR technology meant increasing the size of its plant. And although Schuett says it took a long time to find the best building, working with Austin Smith of JLL it relocated earlier this year into a 17,000-square-foot Innovation Centre behind Big Rock Brewery in the southeast.
Article content
The extra space allows the company to keep pace with the growth of LWR, which ships to the U.S. — primarily California and the Midwest — and has also shipped to Lebanon and Northern Ireland.
The rather unglamorous topic of manure was recognized when Forbes presented LWR with its Innovation Icon Award at the 2019 Thrive-Forbes AgTech Summit in Salinas, earned a financial investment from SVG Ventures, and Schuett was invited to present at a Forbes Summit event.
The technology is already employed on farms with the ability to recycle more than a billion gallons of manure annually.
A dynamic and passionate speaker about her favourite subject, Schuett has also been named one of the six most influential women in Canadian agriculture, selected to join Google's first Google for Startups Accelerator for Women Founders, and was chosen from a pool of more than 1,000 well-qualified nominees to receive the Clean50 designation for her leadership in sustainability.
Article content
Notes:
Who would have thought dogs could donate blood? The Canadian Animal Blood Bank is a non-profit based in Winnipeg that helps save lives of dogs by collecting, processing and selling canine blood for veterinary medical needs across Canada. Despite being in business for 25 years, it was experiencing low awareness, so it approached Calgary's Flipp Advertising that has provided it with a new strategic approach to better position the foundation for future partnerships, fundraising and brand recognition.
David Parker appears regularly in the Herald. Read online at calgaryherald.com/business. He can be reached at 403-830-4622 or by email at [email protected]