Surely Wilkinson and the feds get the desperate need to start finding compromise within this nation. The feds must lead the way.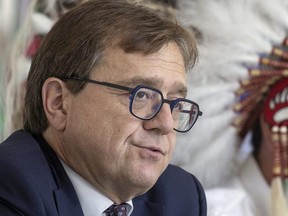 Article content
Recently, federal Natural Resources Minister Jonathan Wilkinson hasn't been drawing the anger of just the usual suspects on the prairie oilfields over the Impact Assessment Act critics say hampers pipeline development.
Article content
He's also drawn the ire of Ukrainian President Volodymyr Zelenskyy over the federal Liberal government's decision to grant a permit to Siemens Canada so the company could repair the Nordstream Turbine in Germany to allow the flow of cheap Russian natural gas.
"It's not just about some Nordstream turbine that Canada shouldn't have but still decided to hand over … actually hand over to Russia." Zelenskyy said in Ukrainian in social media posts. "It's about common rules.
"If a terrorist state can squeeze out such an exception to sanctions, what exceptions will it want tomorrow or the day after tomorrow? The question is very dangerous. Moreover, it is not only dangerous for Ukraine, but for all countries of the democratic world."
Zelenskyy went on to say decisions like Wilkinson's will be perceived by Russian President Vladimir Putin as a signal of Western weakness.
For his part, Wilkinson stressed the move is accompanied by additional Canadian sanctions and was made only to curtail the success of Russian propaganda claiming  Ukraine and the West are preventing Europeans from heating their homes.
"Either way, we knew this decision was going to be criticized," Wilkinson said in an interview in Regina while attending a signing with Indigenous leaders for development of renewable energy projects. Wilkinson admitted his solution was "far from perfect" but it was an issue destined to displease some because there was no compromise that could be found.
Article content
"Either the turbine goes back or it doesn't."
However, the Saskatchewan-educated and raised natural resources minister insisted his government's decision came only after extensive consultations with the officials from the European Union, Germany and the Ukrainian energy minister … although Zelenskyy's remarks viciously contradict any notion the Canadian government's choice has anything vaguely resembling the support of Ukraine.
One might think the big take away is: If you can otherwise find a compromise, take it.
Alas, compromise isn't always easy to find in politics — be it an issue on the high-stakes international stage or a more national one like the ongoing fight Wilkinson faces over the Impact Assessment Act.
To this, Wilkinson isn't exactly offering much compromise, either … even though there may be an easier compromise to be had.
Prior to heading to Victoria for this week's premiers meetings, Premier Scott Moe said Saskatchewan would intervene in any Supreme Court of Canada case in the wake of an Alberta Court of Appeal court challenge determining Bill C-69 infringed on provincial control of natural resources.
One obvious compromise that could ward off another nasty federal-provincial showdown would be a bilateral agreement that might satisfy both jurisdictions.
Asked about this, Wilkinson responded that he's "open to ideas and conversation" but the legislation is the legislation and it should "be given time to work."
Article content
He went on argue there isn't all that much difference between the Impact Assessment Act and previous regulatory federal law and noted that concerns raised about previous LNG Canada pipeline projects stopped or delayed all fell under the jurisdiction of the previous act.
Alas, Western governments — that had qualms with the old federal law and are willingly taking Ottawa to court over the new one — don't see it that way.
No, this isn't exactly like the Nordstream choice where compromise was unlikely to be found between warring nations. But surely Wilkinson and the feds get the desperate need to start finding compromise within this nation. The feds must lead the way here.
Yes, as Wilkinson notes, Ottawa does have responsibilities over fisheries, Indigenous issues and the environment. Yes, governments in Alberta and Saskatchewan have been obstreperous for purely partisan reasons.
But don't we need to start thinking about where we can compromise to make this country work?
Mandryk is the political columnist for the Regina Leader-Post and the Saskatoon StarPhoenix.
Want to know how we decide what to cover and how editorial decisions are made at the Regina Leader-Post and Saskatoon StarPhoenix? Get the weekly Letter From the Editor newsletter from the Editor in Chief Russell Wangersky and join the discussion on what goes into covering news and delivering commentary, both in print and online. Click here to subscribe.