Having survived nine decades of constant decay, it's now become intriguing to watch to see if the Saskatchewan NDP can survive a 10th.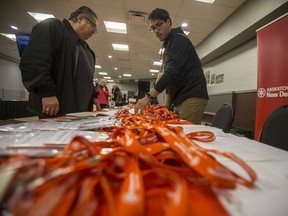 Article content
The biggest fear for the Saskatchewan NDP is that it emerges from Sunday's leadership convention with nothing left but its own natural dysfunction.
Article content
And when dysfunction is all that is left in a political party, it pretty much ceases to exist.
To be clear, dysfunction is a naturally occurring phenomenon in all political parties. It exists in the parties you support and the ones you don't.
In fact, it's often the first thing that shows up in a party, emerging out of the massive ego that often drives a party's creation more so than any burning issue or philosophical belief.
Consider the hubris accompanying the new parties on the right  that now oppose a popular Saskatchewan Party government and what's been its amazingly successful run.
Moreover, this isn't exactly the first time the Sask. Party has faced dysfunction. At its inception a quarter century ago, social conservatives almost swamped the party at its founding convention by calling for boot camps for youth, chain gangs for prisoners and, of course, ending abortions.
All that said, there is something unique about the seemingly never-ending dysfunction in the province's oldest surviving Saskatchewan party. (Given its 2020 election results, there's not much to indicate the Liberals have survived).
Having survived nine decades of constant decay, it's now become intriguing to watch to see if the Saskatchewan NDP can survive a 10th.
It's been a struggle from the very beginning for those who have once viewed this left-wing movement as more of an intellectual pursuit versus those who have seen the NDP as a viable voice for the common person united in common cause. Somehow in the NDP, such strife and dysfunction has never quite gone away.
Article content
Sunday, that struggle again plays out as provincial New Democrats choose between Carla Beck and Kaitlyn Harvey.
Perhaps this struggle isn't exactly identical to the one between early-days intellectual founders of the Co-operative Commonwealth Federation (CCF) that called for the "eradication of capitalism" in the 1933 Regina manifesto versus those wanting a fair price for their wheat or a living wage for teaching in a one-room school house.
Nor is necessarily the 1970s battles between the "Waffle movement" and the party establishment that author Dale Eisler talks about in his book from Left to Right: Saskatchewan's political and economic transformation or the great 1980s internal fight over ending uranium mining development that pitted environmental forces in the NDP against northern First Nations and unions wanting good paying jobs.
But while gentler than such past ground-shaking conflicts in the NDP, what's quietly gone on between Beck and Harvey has all the elements of the past great NDP fights, including the upheaval and dysfunction itself.
Those supporting Harvey (and, occasionally, Harvey herself) have been sniping at Beck and the so-called party establishment for blocking paths towards change by holding a truncated NDP leadership race with what amounted to a predetermined winner less willing to undertake an aggressive social and environmental agenda.
Others in the party (and, occasionally, Beck herself) have rigorously denied this, arguing that there can be no change at all unless the party rediscovers a path to better relate to the half of the province that sees Premier Scott Moe as going a great job  … or at least doesn't see the NDP as a viable alternative.
Article content
Adding to dysfunction is the NDP's ongoing problem of inter-generational transfer  — another familiar theme in this party that often seems to resist development of that next generation of leadership.
That was most evident in the NDP's 2001 contest when the then baby boomers running the NDP show didn't exactly want to yield control to the Gen-Xers represented by Scott Banda and backed eventual winner Lorne Calvert.
This time, however, the Saskatchewan NDP may be offering little as an inheritance to future generations — a growing problem in the last 15 years in opposition.
And unless the party finds a way to pull it together after this weekend, all that it may have left to offer is its dysfunction.
Mandryk is the political columnist for the Regina Leader-Post and the Saskatoon StarPhoenix.
Mandryk: Indigenous Peoples Day reminds us to fight for solutions

Mandryk: Moe disingenuous on dipping into school board reserves
Want to know how we decide what to cover and how editorial decisions are made at the Saskatoon StarPhoenix and Regina Leader-Post? Get the weekly Letter From the Editor newsletter from the Editor in Chief Russell Wangersky and join the discussion on what goes into covering news and delivering commentary, both in print and online. Click here to subscribe.