The Crown is arguing that a man who fatally shot his teenage girlfriend and tried to cover up the crime should get 10 years in prison.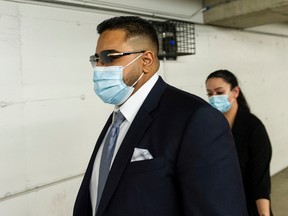 Article content
A Surrey man who fatally shot his teenage girlfriend and then tried to cover up the crime should spend 10 years behind bars, a prosecutor argued Wednesday.
Article content
In February, Harjot Singh Deo, 25, pleaded guilty to manslaughter in connection with the Aug. 1, 2017, slaying of Bhavkiran (Kiran) Dhesi, 19. He also pleaded guilty to interfering with her body. Deo was initially charged with second-degree murder.
Article content
Deo, who was 19 at the time and had been in an intimate relationship with Dhesi, was involved in the illegal drug trade and regularly carried an illegal firearm without a licence.
After his brother had been stabbed, he had set up a security system with multiple security cameras on the exterior of his family's home in Surrey.
On the night of the slaying, Dhesi drove to the Deo residence in a BMW and later went out to dinner with Deo in Langley. Deo took the firearm with him for protection.
Article content
After they had had dinner, they drove back to the Deo residence and proceeded up to Deo's bedroom, where he unintentionally killed her with the firearm. When he went to remove the firearm from his sweatpants, the gun went off and Dhesi was shot in the head. The victim collapsed onto the bed after the shooting and died almost instantly.
After the killing, Deo put the body in the back of the BMW and drove the vehicle to another location where he set the car on fire in an attempt to destroy evidence. Deo's brother and another relative picked him up later and drove him back to the home.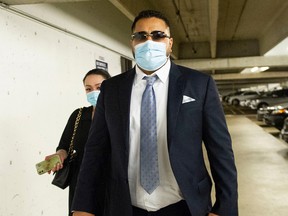 Gurvinder Deo, the brother, and Talwinder Singh Khun Khun, a member of Deo's extended family, were acquitted earlier this week of covering up the slaying. Harjot Deo also assisted in the removal of a bloody mattress, which was taken to another location and set ablaze.
Article content
Though the shooting was accidental, Deo had a high degree of moral blameworthiness because he was in the habit of carrying a dangerous firearm, Crown counsel Sameena Nahal told B.C. Supreme Court Justice Jeanne Watchuk.
Deo's moral blameworthiness was also high for the charge of committing an indignity to a human body and his actions were "cold, callous and calculating", she said.
"Not only was it dishonouring of her, but a failed attempt to conceal his crime," she said. "Mr. Deo's actions to cover up and conceal his crime were undertaken over a period of hours that carried on to the morning of Aug. 2."
The mitigating factors included that Deo was 19 at the time, had no prior criminal record and had entered guilty pleas to the offences.
Article content
Aggravating factors included that Deo was involved in a criminal lifestyle, didn't call 911 for assistance after he had shot his girlfriend and was assisted by others in trying to cover up the crime.
Nahal argued that Deo should get six years for the manslaughter with a firearm offence and four years for covering up the crime, to be served consecutively.
Several victim impact statements were presented in court by family and friends of the teen.
Anjali Dhesi, the victim's sister, said Kiran was a most kind and compassionate person who was so determined to meet all of her goals, particularly in light of the fact that she had health issues that resulted in her getting a kidney transplant earlier in 2017.
"What he did to her was disgusting and unforgivable," she said.
Article content
Defence counsel Richard Fowler told the judge that his client feels remorse for the killing and argued that in attempting to cover up the killing Deo acted in a "despicable" way toward someone he loved. He said the efforts to evade police were an "almost childlike attempt to erase what he'd done" and Deo felt overwhelmed and acted in a state of panic and shock.
"I just kept wanting the nightmare to go away," Deo told a forensic psychiatrist who interviewed him several times.
Fowler argued that a more appropriate sentence would be six years for the two offences. The judge is expected to hand down her sentence at a later date.