Valeriy Tarasenko, 44, is a former associate of Inna Yashchyshyn, who circulated at Mar-a-Lago by pretending to be a Rothschild family heiress.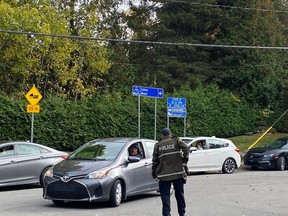 Article content
A man shot near a lakeside hotel in the Laurentians on Friday and linked to a fake heiress who gained access to former U.S. president Donald Trump at his Florida estate was once described by his wife's step-father as being "involved in some unclear activities."
Article content
Valeriy Tarasenko, who is about to turn 45, survived the shooting, which occurred in Estérel, about 95 kilometres north of Montreal. However, the suspect or suspects in what has been described as a "targeted shooting" are still at large, the Sûreté du Québec reported on Saturday.
Article content
"We have nothing more to say than it's a 44-year-old man who was injured, his life is not in danger and an investigation is underway," SQ Sgt. Marythé Bolduc said. The police would not say, for example, if they have leads on the suspect or suspects, whether Tarasenko was, as initially reported, shot in the hotel's parking lot and whether Tarasenko was accompanied at the time of the shooting.
"As far as I know, Valery [sic] has never worked and he is involved in some unclear activities," Tarasenko's step father-in-law, Yury Manakhov, stated in an affidavit filed in Quebec Superior Court in 2012. Manakhov successfully sued his step-daughter, Anna Kovalenko Tarasenko, claiming $370,000 in unpaid loans.
Article content
Tarasenko is a former associate of Inna Yashchyshyn, who made international headlines this year after it was revealed she had gained access to Trump and members of his inner circle at his Mar-a-Lago estate by pretending to be a Rothschild family heiress. A picture taken of her next to the former president on his golf course was widely published.
Tarasenko, who had businesses with Yaschyshyn, told the Pittsburgh Post-Gazette this year he had met with the FBI and turned over documents and photos tied to an investigation into Yashchyshyn, her trips to Trump's residence and businesses she set up over the past seven years.
The Post-Gazette, in collaboration with the Organized Crime and Corruption Reporting Project (OCCRP), quoted Tarasenko as saying he had hired Yaschyshyn in 2014 to live in his Miami condo and watch his daughter while he travelled. The pair fell out, however, and he accused Yaschyshyn of abusing his daughter. Yaschyshyn vigorously denies the allegation and claims Tarasenko was violent and effectively held her hostage, the Post-Gazette and OCCRP reported.
Article content
Quebec business records show a non-profit company, the United Hearts of Mercy, still registered at a downtown Montreal condo Tarasenko's wife, Anna Kovalenko Tarasenko, sold this past June. The non-profit, created in 2010 and also called Coeurs unis de la miséricorde, lists Yaschyshyn as president and Kovalenko Tarasenko as treasurer. The vice-president is listed as Tatiana Verzilina, whom the Post-Gazette and OCCRP reported to be the certified public accountant of an organization in Florida also called United Hearts of Mercy. 
The Post-Gazette and OCCRP reported Verzilina alleged in a 2021 sworn statement, which was turned over to the FBI, the Florida-registered United Hearts of Mercy, now inactive, was a source of illicit funds for organized crime.
Article content
Valeriy Tarasenko was president of the Quebec-based United Hearts of Mercy until 2015, while two other people are listed as past vice-presidents, the Quebec business record shows. The record lists the non-profit's activity in Quebec as charity. However, the name doesn't currently appear in the charities registry of the Canada Revenue Agency.
The Quebec courts have ordered bailiffs to sell certain of the Tarasenkos' properties, including a chalet in Estérel, to repay Kovalenko Tarasenko's debt to her step-father, Manakhov.
The Tarasenkos' current real estate holdings — which also include parcels of land in Estérel — are registered to Kovalenko Tarasenko. A for-profit Quebec company, Bastion-M Inc., which lists its activities as residential construction and management consulting, shows Kovalenko Tarasenko as first shareholder and Verzilina as second shareholder. Valeriy Tarasenko was president of the company from 2007 to 2011.
Article content
Anna Kovalenko Tarasenko married Valeriy Tarasenko in Russia in 2003 and they had a child together, according to one of the rulings in the case involving her step-father. Kovalenko Tarasenko told her mother and step-father in 2006 she had divorced Tarasenko in 2005 and wished to emigrate to Canada to study at a Montreal university, it said.
Kovalenko Tarasenko arrived to Montreal in 2006, and her step-father loaned her $250,000 U.S. in 2007 to buy a condo in the city and set her up, the ruling said. She later remarried Valeriy Tarasenko, who arrived in Montreal in 2008, it said.
Manakhov, who eventually emigrated to Montreal with Kovalenko Tarasenko's mother, claimed in his 2012 affidavit that his step-daughter was "under the negative influence of her husband, Valery Tarasenko [sic]" and "was constantly lying to me about the real nature of her relation with Valery Tarasenko."
Article content
Manakhov claimed in his affidavit his step-daughter said in 2011 she wanted to divorce her husband and needed money. Manakhov said he continued to loan his step-daughter money "to pay her debts and help her with divorce," but that she "lied to me pretending that she was preparing to divorce with Tarasenko … (and) made no action to obtain divorce."
Manakhov won his case against his step-daughter in 2019. The judgement ordered Kovalenko Tarasenko to pay Manakhov $370,000 with interest and an additional indemnity and allowed Manakhov to seize his step-daughter's properties.
Kovalenko Tarasenko unsuccessfully sued her step-father last year for alleged defamation during their legal battle.
La Presse reported Saturday that Valeriy Tarasenko was charged in 2015 with death threats against Manakhov. The newspaper said the case was settled by a peace order that prohibited Tarasenko from approaching his stepfather.