Megan Michelle Gallagher, 30, was last seen in Saskatoon in September 2020.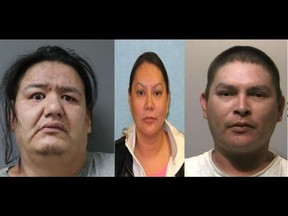 Article content
Police arrested a 41-year-old man on Wednesday and charged him with offering an indignity to human remains in connection with the death of Megan Michelle Gallagher, who disappeared in Saskatoon in September 2020.
Article content
Gallagher, 30, was last seen by family on Sept. 18 and left a friend's home on Sept. 19. Images of her were captured on a convenience store's surveillance footage on the morning of Sept. 20, 2020.
The man is expected to make his first appearance in Saskatoon provincial court on Thursday, when his identity will be available from court records.
Last January, Saskatoon police announced they were treating Gallagher's disappearance as a homicide.
They have also issued arrest warrants for three other people: 44-year-old John Wayne Sanderson, 44-year-old Roderick William Sutherland, and 42-year-old Jessica Sutherland. All are wanted on charges of offering an indignity to human remains.
No further information was released.
Last spring, police released an audio recording of a call made from Gallagher's phone; neither of the voices on the recording was hers. The call was placed to a taxi company in the early morning hours of Sept. 21, 2020.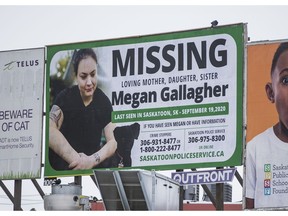 Gallagher, an aspiring cook, had a daughter and was pursuing her passion in the time before her disappearance, her father, Brian Gallagher, told the StarPhoenix in an interview last fall.
"She had finally found what I believe to be her spot in life," he said at the time, describing her as a gentle, giving soul.
Her family is expected to attend court on Thursday.
Police are asking anyone with information on the whereabouts of the wanted suspects, or on the ongoing investigation, to call 306-975-8300 or Crime Stoppers at 1-800-222-8477.