Composer showcases wide-ranging tastes on new album In These Times.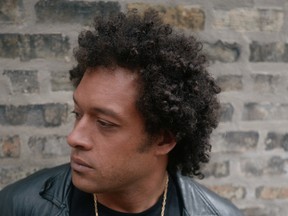 Reviews and recommendations are unbiased and products are independently selected. Postmedia may earn an affiliate commission from purchases made through links on this page.
Article content
Makaya McCraven: In These Times
Article content
When: Oct. 15, 8 p.m.
Article content
Where: Chan Centre for the Performing Arts, UBC
Tickets/info: Tickets.ubc.ca
Dream Another announces itself with a basic drum beat. The stark simplicity is layered over in moments with rubbery Motown-style bass, a twanging guitar lick and glistening harp. By the time the flute solo drops, it's easy to think the track is a long lost gem from the late '60s.
But the tune is taken from In These Times, a very of-the-moment music collection from the acclaimed jazz drummer and composer Makaya McCraven.
The 11-track album follows the Chicago-based musician's widely praised 2018 album Universal Beings. That record saw the in-demand player getting props from the jazz world into pop and experimental music circles. As McCraven's website declares: In These Times is the "beat scientist, drummer and producer" bringing a project seven-plus years in the making to a "triumphant finale."
Article content
With its genre-jumping quality and appeal, McCraven's show at the Chan Centre is one of the season's most-anticipated. The son of African-American expat jazz drummer Stephen McCraven and Hungarian vocalist, flutist and Kolinda member Ágnes Zsigmondi admits his music is a polyglot of sounds and styles.
"In These Times is particularly influenced by the records that my dad and mother made and I grew up hearing," said McCraven. "But where my mother's music specifically influences my work is the use of a lot of odd meters — 7/8, 11/8 and others — which are very common in the Roma music rhythms found in dances. That really gave me a love for the things that fall under the broad label of folk music which I've always seen as music of the people learned through aural tradition generation to generation."
Article content
He continues this assessment of community created art forms to include what is arguably his first love, hip-hop. McCraven draws a line from the exploratory sounds his father explored with such icons as saxophonist Archie Shepp or multi-instrumentalist Yusef Lateef and the first wave of rap producers such as Pete Rock. He liberally sampled jazz recordings to arrive at whole new areas of beat geometry.
The young McCraven soaked up that approach in his own music making, fearlessly pursuing wherever and whatever he liked.
"Rap and hip-hop was experimenting with what was available to create a new culture out of it," he said. "In it's own way, it's a folk music and, rightly, that means it can be incorporated along with those other spaces. Genre is critical in terms of speaking about music, but it is incredibly limiting in how it determines where one genre begins and ends and so on."
Article content
A prime example of "declassified" music would be the work of the late poet Gil Scott-Heron with jazz musician Brian Jackson. McCraven remixed the artist's final album, 2010's I'm New Here as 2020's We're New Again: A Reimagining. He sees Scott-Heron's art as unto itself.
"A lot of the greatest art exists, undefinable, in the cracks and can only be described by naming the artist who set it up," he said. "Chicago is a hotbed for that with a long history of groups such as AACM (Association for the Advancement of Creative Musicians), Rotary Connection, Charles Stepney's production and so forth. I don't know what it is in the air, but it is ripe for finding your own path and voice creatively."
In These Times aligns well with progressive scenes blowing up of late in centres such as London, England, and New York. McCraven has a dozen players on the project, which he began recording in 2015. The success of Universal Beings somewhat put the breaks on the project as he was maintaining a heavy touring schedule in support of that album. The large band performances on the Universal Beings' tour influenced the orchestral approach employed on In These Times.
Article content
The results are far more groove-heavy than concept-bound. McCraven admits he never wanted to be seen as a jazz musician.
"Even though I wanted to play music, and at a high level, I never wanted to be called a jazz musician because the feeling was that being labelled that way was a death sentence to a successful music career," he said. "It wasn't for young people, its clubs were too expensive and it wasn't cool. But then seeing the creative side of hip-hop with Madlib and DJ culture connecting with jazz from a completely different place than the traditional market, I saw a way to build and grow a new community organically outside of the norm."
He says the rhythmic and visceral side of the music never failed to connect with younger ears and there was a healthy underground thing going on. These days, he thinks the scenes blowing up all over the place are building community online, which enables a vibrant group of artists to make a living and — with challenges — establish an international profile.
Article content
"Even being in Chicago, there is no question that the scene is more local than those of New York and L.A., where the labels and management infrastructure exists," he said. "But that also allows a kind of flourishing of ideas which gains footholds around the world and gets you places."
The In These Times' tour is a prime example of this very thing. Without a major label or airplay, McCraven is making stops at top-level venues across the country. With a touring band that includes such band-leading luminaries in their own right as guitarist Jeff Parker and trumpeter Marquis Hill, the backing unit is sure to burn live.
"For October, it's a quintet with select performances, such as Vancouver, embellished with a string quartet and added multimedia parts," he said. "In These Times was originally commissioned for the Walker Art Center in Minneapolis as this kind of presentation, and then we did it at the Chicago Symphony Center before COVID shut us down. Parts of the record were recorded at those times too."
On top of the extended presentation for In These Times, the Chan Centre show has added local 11-piece Egyptian/Jazz fusion ensemble Gordon Grdina's Haram. Led by Juno-winning guitarist and oud player Grdina, the group was founded in 2008 to interpret the classic Arabic repertoire and has developed into a delightfully inventive and fluid performing unit. Drummer Trevor Dunn will appear as a special guest as well.