Amber Manthorne was last seen on July 7 and her white Jeep was found south of Nanaimo a couple of days later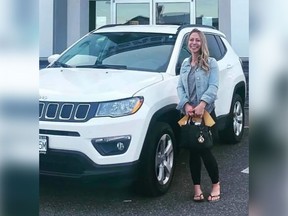 Article content
The major crime unit on Vancouver Island has been called in to help with the disappearance of Amber Manthorne from Port Alberni, but police are urging the public not to jump to conclusions.
Article content
Manthorne was last seen on July 7 and her white Jeep was found south of Nanaimo a couple of days later.
The RCMP said earlier they thought she might be in the company of a man, but he has since been talked to and police no longer think Manthorne is with him.
"We understand that it may be concerning to hear that the (major crime unit) has been called to assist," said Insp. Kevin O'Donnell. "However, we want to assure the community that this is not unusual, in cases where a person's disappearance is out of character and criminality cannot be immediately ruled out."
If criminality is ruled out, O'Donnell, the officer in charge of the Island's major crime unit, said the investigation will be handed back to the Port Alberni RCMP detachment.
"It is out of character for Amber to be out of touch with family and friends for this long," said Const. Richard Johns earlier in the search.
O'Donnell's unit is following up on tips and information in Port Alberni, doing interviews and gathering surveillance video. Sites where Manthorne might be located, including the place her Jeep was located, are being searched.
Manthorne is five-foot-one, with a slim build and blond hair.
Anyone with information is asked to call Port Alberni RCMP at 250-723-2424.