Lt. -Gov Russ Mirasty said the day was a chance "to contemplate, to think about and to remember… the young ones who never returned home."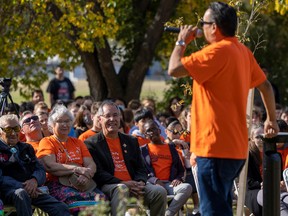 Article content
Celebrations for the second annual National Day for Truth and Reconciliation were held across Regina, as orange shirts blended with yellow, orange and red leaves.
Article content
Lt.-Gov. Russ Mirasty started his portion of an event commemorating the day by speaking in Cree, an important gesture in front of a monument documenting the 22 residential schools of Saskatchewan on the grounds of Government House.
Article content
'You are our heroes': Cowessess marks first National Day for Truth and Reconciliation

Inaugural Miyo-wiciwitowin Day floods Mosaic Stadium with orange
The event was a way "to contemplate, to think about and to remember… the young ones who never returned home," said Mirasty, himself a residential school attendee. Elder John Stonechild offered an opening prayer and then local rapper Brad Bellegarde performed.
Building the monument was part of Mirasty's goal to enact Truth and Reconciliation Commission of Canada: Calls to Action 82. He said when he became lieutenant governor he wanted to bring people together. He feels the monument is a way to do that, to honour the past and to teach the current generation about what happened on treaty land across Canada.
Article content
"It's up to us to maintain that momentum, that thinking, that coming together to make sure that that we never forget," he said.
As for why the monument is at Government House, Mirasty said the colonial seat of power predates the creation of Saskatchewan and harkens back to a time where Indigenous people dealt directly with representatives of the Crown.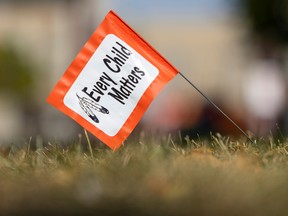 The stone was taken from land on Treaty 4, the plants are all native to Saskatchewan. The boulder represents the role of stones, which hold significance in sweat lodges and ceremonies.
"You might think it's quite simplistic, but it's meant to be," he said. "The foundational thinking around this monument was that it be simple, focused on children, but very natural in terms of its elements."
Article content
Seeing the crowds around the monument, young and old, Mirasty said he was encouraged.
"It really warms my heart, because at the end of the day, if the monument's here and nobody comes to visit, and nobody seeks to understand, then it's all for naught," he said.
Students and young people made up the bulk of the approximately 400-person crowd, a heartening thing to see for Cheryl Toth. When she went to school what was taught was early colonization, alliances between European powers and the conquering of the people.
"It's really, really important to be able to think about the history and to do some correctives on the history we've been taught," she said.
"It's important to, for me to try and mark the day and to think about what the future might be and how I can help shape that."
Article content
Given his own history, and given his role today Mirasty said it is important for reconciliation to represent a coming together of peoples.
Speaking to the many Luther College High School students in attendance, Mirasty said the day had to be about education, and that he hope the monument endures and lasts for all future generations.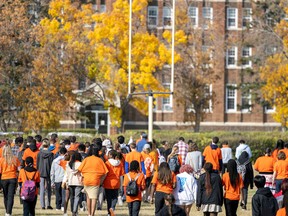 As for the tone of the day, Mirasty said "at times, it's meant to be solemn contemplation, as I talked about, but also looking to the future, looking to how Indigenous people can fit into the broader society."
Bellegarde's performance included songs with lyrics touching on the experiences of his parents in residential schools, addictions, education and culture. For him music and art were his methods of contributing to reconciliation on the day.
Article content
"It's not just entertainment, it's actually being a part of history. It's only the second year that we've had this holiday," he said.
For Grace Belanger and her little brother Luke the mixture of solemn reflection and rap were in perfect balance.
"It's obviously sad, and you need to remember what happened, but it kind of makes it an easier way to process everything," she said of the event.
Belanger is taking a youth care worker program in Saskatoon and wants to be better educated and connected with Indigenous culture and history.
Belanger said she wants "to connect better with Indigenous culture. I like to learn and hear all the stories that I possibly can."
Elsewhere in the city events were held at the Royal Saskatchewan Museum and two memorial walks were held in downtown Regina and in North Central.