"The way she died. Like, innocent … and the brutality of it. I can't describe it. It makes my head just blow."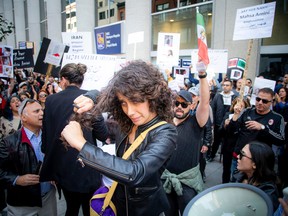 Article content
The name Mahsa Amini rang through the streets of downtown Ottawa on Sunday, shouted again and again by members of the Iranian community who came out by the hundreds to join a wave a protest and calls for change, from inside Iran and out, that's erupted in the wake of Amini's death.
Article content
The 22-year-old died following her arrest by Iran's "morality police," ostensibly enforcing rules in the country about how the compulsory hijab must be worn.
Article content
"She was dressed better than I usually am dressed in Iran," said Rosa Kheirandish, who was born in Iran and spent much of her life in the country before moving back to Canada in 2020.
"The way she died. Like, innocent … and the brutality of it," said Kheirandish. "I can't describe it. It makes my head just blow."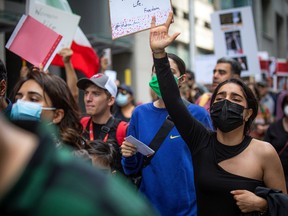 One of the organizers of Sunday's march and downtown rally, Kheirandish said what she and other protesters are fighting for goes far beyond the hijab rules that women in her home country are subject to. In the days following Amini's death, dozens of protesters have been killed, and "at this point, we're fighting for our lives and we want the government to step down," said Kheirandish.
Article content
Maryam Fatahi, 42, attended Sunday's rally with plans to cut her hair, an act of defiance against the oppressive Islamic Republic regime by women around the world in the wake of Amini's death. For Fatahi, it's a gesture of solidarity with Iranian women and others who've been killed by police in the country she left six years ago.
"It's nothing," she said, of the curls she would later slice off. "People have been killed in Iran by the regime, by the brutal regime, by the dictatorship regime. It's nothing, it's just hair … what they are doing in Iran these days. My hair is nothing."
Goldie Ghamari, the MPP for the Ottawa riding of Carleton, was in the protest crowd Sunday — to be a voice for the people in the country she was born in, who are "fighting for freedom and democracy," she said.
Article content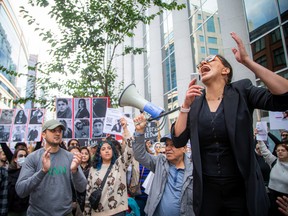 "The illegitimate and terrorist Islamic regime in Iran is shutting down the internet, murdering people," said Ghamari.
The MPP said she would love to see the federal government take a stronger stand against what's happening in Iran. It was a sentiment shared by a number of protest attendees who spoke to this newspaper Sunday.
Azin Rezaeian and Sam, who did not want to share his last name out of concern for the safety of family in Iran, called for Canada to cut off relations with Iranian diplomats, other regime representatives and lobbiyists and support access to the internet inside the country.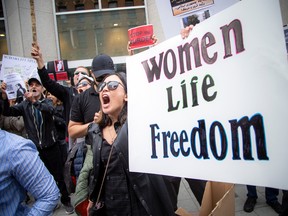 Many of those at the protest concealed their identities with medical masks or sunglasses, concerned for the safety of loved ones back in Iran, and the reaction of a regime whose reach isn't stopped by the country's borders.
One such protester said she feels the Canadian government, which benefits from skilled migration from Iran to Canada, needs to back up its talk about human rights with action.
"A lot of people here, we have left our country, but now our heart is there," she said, voice breaking. "Our sisters are being killed and we can't do anything (about) it."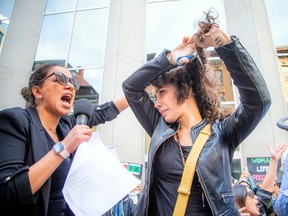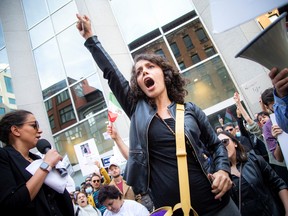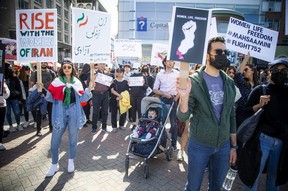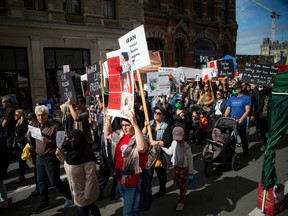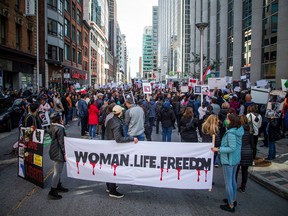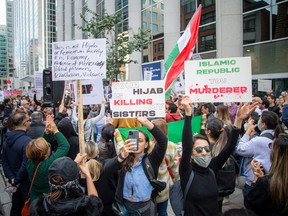 Hundreds march in downtown Ottawa calling for governments to act on climate change

Deachman: Protesters to march on SJAM parkway to change name