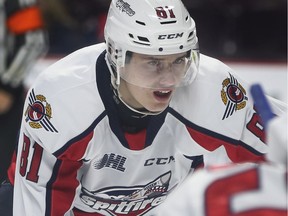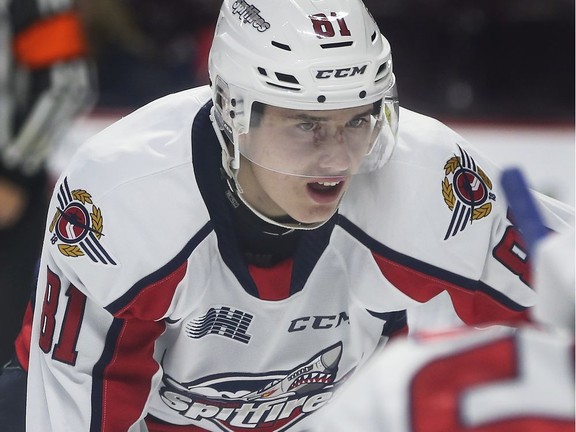 Article content
Overage forward Matthew Maggio made an immediate impact in his return to the Windsor Spitfires' lineup.
Article content
Maggio, who was returned to the club on Friday by the New York Islanders, had a goal and was a plus three on Saturday as the Spitfires earned a 5-4 win over the Saginaw Spirit at the Dow Event Center.
Article content
"It was good to be back," Maggio said. "Obviously, it was a change of pace and I knew I was going to need some time to adjust, but it felt good out there.
"I definitely have a lot of confidence this year and know I'm leaned upon to produce and help the team win."
Saturday marked Windsor's first road game of the season and the club has now earned five of a possible six points in three games to start the season.
"At the end of the day, I thought we made some mistakes, but it's early and we are getting results," Spitfires' head coach Marc Savard said. "We've got to live and learn, but I think we're doing a good job."
Article content
Saginaw has gotten out of the gate quickly on offence and is leading the league in goals with an average of nearly six per game.
"They've got a lot of guys back and they're a good team and can score a lot of goals," Savard said. "They're going to be dangerous and to get a win on the road against a good lineup is a bonus."
The Spitfires, who topped the league in goals last season, are also showing life on offence with back-to-back performances of five goals in a back-and-forth match.
" I was really proud of the group (Saturday) to get the win," Maggio said. "When I thought (the Spirit) had a good pushback, we continually responded.
"I think, as a group, there's things we need to work on, but that's expected this early in the year."
Article content
Oliver Peer's short-handed goal put the Spitfires on the board first, but the Spirit responded with power-play goals from Matyas Sapovaliv and Joey Willis to go up 2-1 after 20 minutes.
Jacob Maillet got the Spitfires even just 39 seconds into the second period. Ethan Miedema made a nice move to get free in the slot and snapped a shot home to put the Spitfires up 3-2 just over four minutes into the period.
Sapovaliv's second goal of the game tied things at 3-3, but Maggio put the Spitfires up for good late in the second period.
"It was nice to get that first one out of the way and get me back into the swing of things," Maggio said. "I knew it would come eventually, if I played the right way and I'm glad it did."
Alex Christopoulos picked off a pass at the blue line and scored to give Windsor its only two-goal lead of the game.
Article content
Pavel Mintyukov's pulled the Spirit back to within a goal midway through the third period, but Saginaw could not produce the equalizer to force overtime.
The Spitfires are back in action Monday against the Sault Ste. Marie Greyhounds at the WFCU Centre. Game time is 2:05 p.m.
twitter.com/winstarparker
Game Summary
Saturday Result
Spitfires 5 Spirit 4
Windsor 1 3 1 –5
Saginaw 2 1 1 – 4
First period: 1. Windsor, Peer 3 (unassisted) 12:08 (sh), 2. Saginaw, Sapovaliv 4 (Bloom, Codd) 12:51 (pp), 3. Saginaw, Willis 3 (Mintyukov, Loukus) 15:43 (pp). Penalties: Hislop S (interference) 1:26, Phillips S (holding) 8:04, Jodoin W (hooking) 11:22, Renwick W (tripping) 14:52, Hill S (clipping) 18:04.
Article content
Second period: 4. Windsor, Maillet 1 (Jodoin) :39, 5. Windsor, Miedema 1 (De Angelis) 4:03, 6. Sapovaliv 4 (Willis) 14:53, 7. Windsor, Maggio 1 (Smith, Cristoforo) 16:21. Penalties: Forgione S (hooking) 4:13, Spellacy W (interference) 7:34, Bloom S (roughing) 20:00.
Third period: 8. Windsor, Christopoulos 2 (unassisted) 2:03, 9. Saginaw, Mintyukov 3 (Sapovaliv, Loukus) 9:35. Penalties: McLlwain W (tripping) 5:34, De Angelis W (tripping) 19:55. 
Game stats – SOG – Windsor 18 12 4 – 34 Saginaw 12 12 9 – 33 Goal (shots-saves) – Windsor: Onuska (W,2-0-1-0) (33-29). Saginaw: Fullerton (L,0-1-0-0) (34-29). Power play (goals-chances) – Windsor 0-5. Saginaw 2-5. Referees: Brendan Kane (55) and Anthony Tapper (37). Linesmen: Riley Brass (44) and Andre Grougrou (77). Att.: 2,468 at the Dow Event Center.
Check out our sports section for the latest news and analysis. Care for a wager? Head to our sports betting section for news and odds.