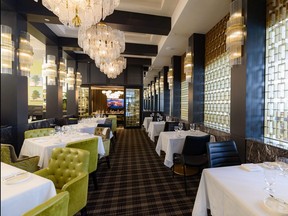 Reviews and recommendations are unbiased and products are independently selected. Postmedia may earn an affiliate commission from purchases made through links on this page.
Article content
Italian food comes in many delicious forms, from ultra-casual pizzerias and rustic pasta joints up to high-end dining rooms serving delicately prepared seafood and premium cuts of meat. Acknowledging that no one restaurant can even come close to showcasing the breadth of Italian cuisine, the Vintage Group has created five new Italian concepts that exist under one sky-high roof. The eateries all opened earlier this summer within The Oliver, a residential building on the corner of 10th Avenue and 5th Street S.W.
Article content
Initially conceived as an Italian food hall, then tweaked to jive with the layout of the building, the five brands take up almost the entire first floor of the building. Walk in the front doors and on one side of the reception desk you'll find the slick Fleetwood Lounge cocktail bar, on the other side there's Pazzi pizzeria, and behind that the Treno coffee and prosecco bar, Luca Mercato Italian market, and Luca, a full-service Italian restaurant.
Article content
Calgary has seen several Italian spots open this year and while the novelty of having all of these together is interesting (and particularly handy if you happen to live in The Oliver), what makes this development truly exciting is the involvement of culinary director Giuseppe Di Gennaro. As the culinary force behind some of Calgary's most sorely missed Italian restaurants including Il Sogno, Capo, Borgo, and most recently, Cotto, Di Gennaro is the type of chef that makes serious restaurant types giddy. The Vintage Group's Lance Hurtubise jokes that he's been trying to hire the chef for the past 20 years.
Article content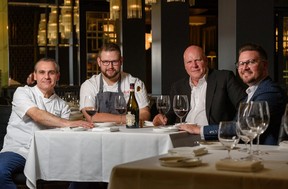 "We really wanted to raise the bar in the city when it comes to Italian food," Hurtubise says. "The finer dining places all came down a bit during COVID while more casual dining came in. We want to bring that higher-end experience back up."
While the food throughout the Oliver is very good – the contemporary take on Neapolitan pizza at Pazzi, freshly made sandwiches from the mercato, and pastries at Treno should not be overlooked – Di Gennaro's talents are on full display at Luca. Designed by Paul Lavoie Interior Design, Luca is a classy room with a big open kitchen in the centre (the surrounding bar stools are the best seats in the house) and glitzy art deco-inspired flourishes. Servers dart about in formal white jackets, offering impeccable service that matches the opulence of the room.
Article content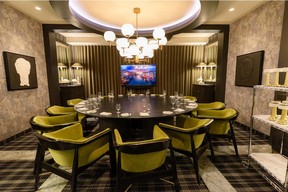 The food is even more impressive, with luscious starters like strips of tender calamari with artichoke-lemon tartar sauce ($18) and a fresh tomato salad topped with a creamy heap of burrata shipped in from Italy ($28). The pasta section is small but mighty with concoctions like garganelli topped with sweet duck confit and candy onions ($29), offering a far more complex flavour profile than the description suggests. The kitchen swings big with its larger format plates, including a perfectly juicy saltimbocca veal chop in a white wine reduction ($55), a 30-ounce bone-in bistecca Fiorentina with duck-fat roasted potatoes ($155), and an ultra-rich lobster risotto for two with mascarpone and fresh tarragon ($70). These hefty dishes are certainly extravagant, but they're prime for special occasions and can be shared. On less splurgy evenings, sitting at the kitchen bar with a plate of wild mushroom fettuccine ($27) and some lemon curd ricotta fritters ($12) for dessert would feel just as special. Eating at Luca doesn't have to be complicated.
Article content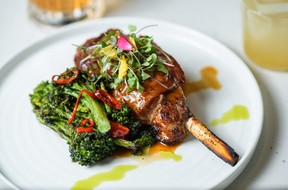 "Italian food is simple. People think higher-end food needs 25 ingredients in one dish, but that's not the case with Italian food," Di Gennaro says. "The modern part is the presentation. We make everything look a little bit cleaner and different from an everyday Italian restaurant. Our flavours are strong; there's no masquerade going on."
Luca and its sister eateries are located in The Oliver at 524 10th Ave. S.W. and the restaurant can be reached at 403-261-1777 or through lucayyc.com. Luca is open daily for dinner with lunch service coming soon.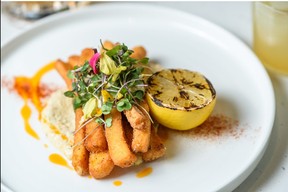 ***
Congratulations go out to Timothy James Bleau from Deane House and Ben Thompson of Orchard, two local sous chefs heading off to the Young Chef Academy Competition in Toronto later this month. Both will compete against eight other young chefs from Oct. 23 to 25, showcasing their signature dishes in a cook-off. The winning Canadian finalist will advance to the final round to compete against chefs from around the world at the grand finale in Milan, Italy, early next year. Best of luck, young chefs!
And in less happy news, Silver Inn, the iconic Calgary restaurant credited with inventing ginger beef, has announced that it is closing after 47 years of operation. The owners will move into their well-earned retirement, with their last day of service on Oct. 9. In a Facebook post, the restaurateurs hinted that the restaurant will re-emerge in another form in the future, but for now you have a little over a week to pop in for one last meal.
Elizabeth Chorney-Booth can be reached at [email protected] Follow her on Twitter at @elizaboothy or Instagram at @elizabooth.