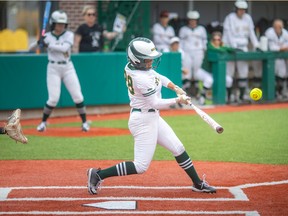 Article content
The St. Clair Saints softball club continues to roll through OCAA play.
Article content
The Saints improved to 12-0 by sweeping a pair of weekend doubleheaders in dominating fashion. St. Clair swept the Durham Lords (9-5) by scores of 8-0 and 7-0 at home on Sunday after sweeping the Mohawk Mountaineers (1-11) on the road Saturday in Hamilton by scores of 16-1 and 11-0. 
Article content
On Sunday, Amy Claydon had three hits, including a home run, and drove in five runs in the first game with Sierra Baltzer and Shae-Lyn Murphy each adding two hits. In the second game, Claydon homered again and had two hits while driving in two runs with Bryanna Kressler and Baltzer also notching a pair of hits each.
On Saturday, the Saints scored a mercy win in four innings in the opener against Mohawk. Claydon homered and had four hits while driving in six runs. Murphy homered and had three hits while driving in three runs. The second game was also a mercy that went five innings with Kressler throwing a no-hitter through five innings and striking out 11 batters. Claydon had four hits and drove in four runs, Murphy had four hits and scored four runs while Kressler had three hits and drove in four runs and Jacklyn Yewchyn also chipped in with three hits.
Article content
Saints baseball sweeps
The St. Clair Saints baseball team swept the Durham Lords in OCAA play on the road on Saturday before Sunday's doubleheader against Centennial was postponed by rain.
On Saturday, the Saints beat Durham 18-8 in the first game and followed with a 12-3 win in the second game.
In the first game, Riley Briggs homered and drove in four runs. Austin Tilson had three hits and drove in three runs while Henry Real chipped in with two hits and drove in four runs and Owen Findlay adding three runs while driving in three runs.
In the second game, Real had two hits and drove in six runs and Findlay also had two hits for the Saints (12-2), who picked up 10 walks against Durham (7-7).
Vipers take two
The LaSalle Vipers won a pair of Greater Ontario Junior Hockey League games at the showcase event in Pelham that featured non-conference games.
Article content
The Vipers beat the Caledon Bombers 7-3 on Sunday after rallying for a 4-3 win over the Caledonia Corvairs on Saturday.
On Sunday, the Vipers (3-2-0-0) held a commanding 41-19 edge in shots on the Bombers (1-6-0-0). Cole  Davis and Brady Hamlin each scored twice for the Vipers. Drew Booker and Andrew Kotevski each had a goal and two assists with Jake Eaton netting the other.
On Saturday, Patrick McManus and Brody Gillis scored third-period goals to rally the Vipers, who trailed 3-2 after 40 minutes. Max Frattaroli and Andrew Kotevski added single goals for LaSalle against the Corvairs (4-4-0-0).
Flyers earn split
The Leamington Flyers rebounded to beat the Cambridge Redhawks 4-1 on Sunday after letting a two-goal lead slip away in a 4-3 loss on Saturday to the Fort Erie Meteors on Saturday at the Greater Ontario Junior Hockey League showcase at the showcase event in Pelham that featured non-conference games.
Article content
On Sunday, Hayden Reid scored a pair of goals for the Flyers (3-1-1-0) with Ryan MacPherson and William VanSumeren adding single goals and goalie Bryce Walcarius made 19 saves against the Redhawks (3-1-0-1).
On Saturday, VanSumeren, MacPherson and Cody Brekke had the Flyers up 3-1 after in the third peered, but the Meteors (6-2-0-0) rallied to take it in overtime.
Blades best Admirals
The Amherstburg Admirals dropped a 6-2 road decision to the Blenheim Blades on Sunday in Bills Stobbs Division play in the Provincial Junior Hockey League.
The Blades (2-0-0-0) scored the game's first six goals before Layne Crispin and Connor Demelo scored in the third period for the Admirals (1-2-0-0).
Saints football rolling
Article content
The first-place St. Clair Saints football team remained perfect in Ontario Football Conference play after a 23-13 road win over the Hamilton Hurricanes on Sunday.
Running back Jonathan Cartier got the Saints rolling with a 39-yard touchdown run and finished the game with 137 yards rushing on 21 carries.
Kian Voakes scored on a 10-yard run and quarterback Andrew Brush added another touchdown on a two-yard run. Preston Knight converted all three scores and the Saints (7-0) added a safety while building a 23-0 lead at the half on the Hurricanes (3-4).
Ravens drop Lancers
Carleton Ravens jumped to a 17-point lead after the first quarter and beat the the University of Windsor Lancers 24-7 in OUA football action in Ottawa on Saturday.
Article content
Running back Joey ran for 107 yards on 25 carries and had the lone touchdown for Windsor (2-2) one a one-yard run. Defensively, lineman Dealius Danso had six tackles, two sacks and recovered two fumbles against the Ravens (3-2).
Lancer soccer sweeps
The University of Windsor Lancers men's soccer team posted its first win of the OUA season while the women picked up a win that extended the team's point streak to five games.
The men rolled to a 9–0 victory over the Algoma Thunderbirds. The Lancers (1-6-0) got three goals from Frankie Facchineri and Devin Hernandez added two goals against Algoma (0-6-0) with Alessandro Berardi, Robert Alionte, Giovanni Magliaro and Otis Vacratsis adding single goals.
The Lancer women's team (3-1-3) slipped away with a 1-0 win over the Thunderbirds (0-6-0). Forward Aislynn Essibrah had the lone goal on a penalty kick in the 45th minute and Jordan Samping posted the shutout in her first game.
Article content
Saints soccer splits
The St. Clair Saints women's soccer team picked up its first win of the OCAA season on Saturday while the men's team watched an early lead slip away.
Melissa Watson got the Saints on the board first and Jaclyn French scored the game winner in the 77th minute to snap a 1-1 tie and lift St. Clair (1-2-1) past Conestoga (1-3-1).
The St. Clair men (2-2-0) went up early on a goal on Alex Artico's goal in the 24th minute, but the Condors (4-0-1) rallied with three-unanswered goals in the second half to grab the win.
twitter.com/winstarparker
Check out our sports section for the latest news and analysis. Care for a wager? Head to our sports betting section for news and odds.