Reviews and recommendations are unbiased and products are independently selected. Postmedia may earn an affiliate commission from purchases made through links on this page.
Article content
In Wendy Hill-Tout's new documentary, Insanity, we see the filmmaker walking through the streets of Vancouver's Lower East Side with photos of her missing brother Bruce.
Article content
She goes to shelters and approaches people on the street, showing photographs of him: one of him with a beard and one without.
Article content
"He's older now," she tells a kind woman named Nadine, who sits cross-legged under blankets on the sidewalk. "He's been missing for a while. He might have come out to Vancouver here."
If Bruce Hill-Tout is still alive, he is at least 25 years older than the last known pictures of him. He has been missing ever since he left his Calgary apartment after making several frantic calls to his family. Suffering from schizophrenia, he had become increasingly convinced that someone was looking to harm him. For a quarter of a century, no one has heard from him. In the documentary, Nadine thinks he looks familiar but doesn't have any valid information about him. She suggests Hill-Tout check the shelters.
Article content
The Calgary-based filmmaker admits there is a part of her that has concluded she will never see Bruce again. But she still looks. She still hopes.
"It took a lot of years to come to that point, to say 'OK, he's dead,' " says Hill-Tout. "It's been too long. It's not possible that he's still out there. So, intellectually, I think that. But even my brother, David, says 'I saw this guy the other day and I still look. He looked like Bruce.' That happens to me all the time. You stop and look and it's not him."
Bruce's descent into mental illness and disappearance is just one of the personal stories in Insanity. The title is more of a reference to how our justice system fails in caring for the mentally ill rather than the illness itself. Through interviews with her father and siblings, family photos and dramatizations, Hill-Tout tells her brother's story. But it's not a mystery. The family doesn't spend much time in the film unravelling clues. Instead, they share their feelings of guilt, loss and confusion, which leads to a broader story about the gaps that allow people such as Bruce to fall through the cracks. Families face a tangled nightmare of waiting lists, lack of housing and other services when attempting to care for a loved one who is mentally ill. Often, the nature of the illness makes it impossible for that person to believe they need help. If they aren't violent towards others or themselves, they often aren't deemed a priority. By the time they are, they are often entangled in the justice system rather than receiving help from the health-care system.
Article content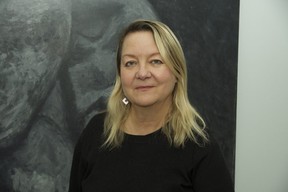 Insanity doesn't actually begin with Bruce's story but by chronicling a series of recent tragedies that involved police responding to mentally ill people in crisis. That includes the 2013 shooting death of Sammy Yatim, a mentally unstable 18-year-old who was killed after a Toronto police officer shot him nine times on a streetcar; and Chantel Moore, a 26-year-old Indigenous woman killed by police in New Brunswick in June 2020 during a "wellness check."
"Honestly, I was just angry by the number of people being shot by police who have a mental illness," Hill-Tout says. "People go for health checks and they are reported because they are causing a disturbance or whatever and it's still happening to this day. It just makes me angry, the way we treat people with mental illness. We just haven't figured it out as a society."
Article content
Hill-Tout interviews family members, activists and front-line professionals to outline both specific gaps in services and broader systematic failures and lingering societal shame about mental illness that continues to put our most vulnerable at risk.
"We see it in every city in North America," Hill-Tout says. "It's not confined to certain cities now that are warmer and bigger, it's everywhere. When I started this film – and I started it before COVID, I filmed it over time – I used to go out and look for homeless people and hope that we would find some when I was with my camera people. I don't have to look for them anymore like when I went and filmed that tent city, which has been torn down, unfortunately. Sadly, that's our response. Rather than to actually find housing for them or build housing for them, we just tear the tents down so that they are not a nuisance. You see that happening across the country."
Article content
Hill-Tout is a veteran of the Alberta film industry as a producer and director with a resume that stretches back to the mid-1990s. Her most recent film as a director was 2021's Marlene, a biopic about Steven Truscott's wife who fought for years to prove her wrongfully convicted husband was innocent of a murder charge. The lead role was played by  Kristin Booth. It was during a casual conversation with the actress that Hill-Tout learned they shared similar experiences. Booth's brother Tyler, who is interviewed in the film, has also had his struggles with mental illness and homelessness. Hill-Tout tells his story and how his family has been forced to deal with a system ill-equipped to offer meaningful help.
"What I find as a family member is there is a bond between families because there is this privacy and secrecy about it," says Hill-Tout. "So when they find out you are like them, you have someone in your family that has this illness, this disability, there's this instant bond that gets created because you know what it's like. You know what they are going through and they know what you are going through and all the emotions. That has happened on so many occasions. People don't just talk about it. You don't meet them somewhere and they say 'Oh I have a son who is … or I have a brother who is … or a sister or a mother.' Although it's more easily talked about now, there is still to this day I think a lot of shame, a lot of secrecy. It's kept private in the background until you know someone else understands."
Insanity screens Sept. 27 at 8 p.m. and Oct. 2 at 11 a.m. at the Cineplex Eau Claire Market Cinemas as part of the Calgary International Film Festival.